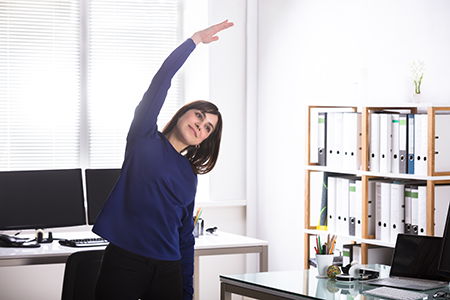 Life often sits us on our posterior. Work routines and duties, commutes and errands, meals, meetings and classes can all revolve around sitting. Research tells us too much sitting can be bad for our health - for more information read my blog post Stand Up For Your Health.
Too much sitting can also wreak havoc with our concentration and productivity, leading to that energy zapping afternoon slump. Other factors can create this slump too, such as, poor diet and lack of sleep. Regardless of the cause, here are some ways to counter that slump when it threatens:
Peppermint – Peppermint is a known energy-enhancing scent. Try chewing some minty gum or using peppermint essential oil or peppermint-scented hand lotion to improve concentration and alertness.
Dark chocolate - Dark chocolate (at least 60 percent cacao) contains a natural endorphin that can both relax you and keep your energy in balance. It also adds a little bit of caffeine and helps satisfy your sweet tooth without a lot of sugar. Just don't overindulge – limit your chocolate hit to 1 ounce.
Healthy snack – Snacks that combine protein, fiber and complex carbohydrates (such as whole-grain crackers or raw vegetables) can raise your blood sugar level steadily and keep it up. Avoid sugar and caffeine. They can spike your blood sugar and lead to a crash that could fuel an afternoon slump.
Music – Put on your favorite music. Some people prefer upbeat toe tapping tunes. Others may find that a more laid-back beat helps them more clearly focus on the task at hand.
Sunshine – Step outside and take a few deep breaths in the sunshine. This can help reset your chronological clock and reduce the melatonin (sleep hormone) your body produces during this circadian dip.
Breathe - Meditate or perform breathing exercises when you start to feel your energy wane. Read my blog post Breathe. Just. B r e a t h e for more information about controlled breathing.
Move – Moving around can be a great way to shake out the afternoon sleepies. Try one of these stretches to help rejuvenate your body:
Torso Stretch – Interlace your fingers with your palms facing upward above your head and reach up toward the sky, as high as you can. Keeping your arms straight, lean slightly from side to side. Can be done seated or standing.

Arm Stretch – Stretch your arm out in front of you with the palm down. With your other hand, grab your fingers and slightly pull them up to stretch your forearm. Repeat with other arm. Can be done seated or standing.

Shoulder Rolls – With your arms at your side, roll your shoulders forward then backward. Can be done seated or standing.

Hip Flexions – While sitting in your chair, with your knees bent at a 90 degree angle, lift one foot a few inches off the floor. Hold the position as long as comfortable. Switch to other leg.

Leg Extensions – While sitting in your chair, extend your leg until it is level with your hip. Hold as long as you are comfortable. Alternate sides.

Toe/Heel Raises – Stand up with your feet shoulder width apart. With your hand on a wall to steady yourself, slowly raise your toes while keeping your heels firmly on the ground. Slowly lower your toes and then raise your heels. Repeat several times.

Next time you feel the afternoon blahs heading your way, try one of the above tips. They can help you refocus and be more productive.
Until next time, stay sharp!
---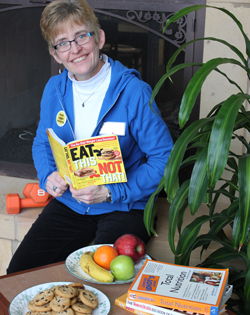 Linda is the White River Branch Manager and leader of our staff wellness team. Staying healthy and keeping fit are keen interests of Linda. Her goal is to enable others to live a healthy lifestyle through good nutrition, physical fitness and a positive outlook, although (shhhhh) she does confess a weakness for potato chips and Cheetos!
Join the conversation at linda@jcplin.org.