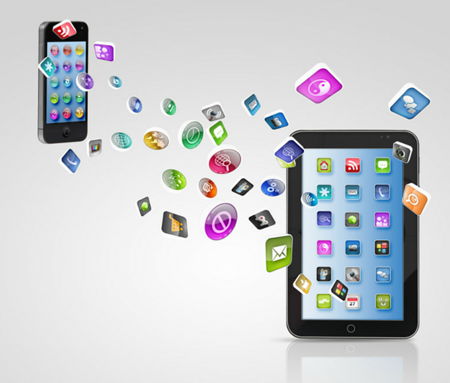 The mobile device explosion - smartphones and tablets, Apple and Android - promises to be as profound a shift in how we get work done as the personal computer revolution of the 1980s. Now you can carry a device in your pocket or briefcase that is as powerful and versatile as a desktop PC. And the always-on connectivity enabled by wi-fi and cellular internet means you're never out of touch with your co-workers or your customers. (Whether you like it or not.)
Every current-generation mobile device comes out of the box with a ton of useful features pre-installed. But the power of your phone or tablet can be greatly amplified with the use of a number of apps and online services, many of which are free or low-cost. The best of these services work across platforms, so you can easily access your data whether you're in a Starbucks two towns over or back at your desk. Here are a few that we recommend:
DROPBOX
Cost: Free; $9.99/month for more storage space and extra features
Remember the feeling when you could stop burning CDs and start storing data on USB drives? Dropbox is the next level of data backup and sharing. You can install Dropbox on your home or office computer, then put any document or file in your new Dropbox folder. That file is then automagically available on any other computer or mobile device on which you install Dropbox. You can even log in on the web if you're using someone else's computer.
Sharing files from Dropbox is as easy as sending a link via email or text message. You can even automatically upload photos from your smartphone camera to a Dropbox folder so they're always backed up. Once you start using Dropbox or a similar cloud storage service like Google Drive, you'll wonder how you got along without it.
SIMPLENOTE
Cost: Free
Sometimes you don't need anything fancy, you just need to get your ideas down in a hurry. Simplenote is designed for you to get ideas out of your head and written down as quickly and easily as possible. There's no fancy text formatting, images, or a lot of bells and whistles. Open up Simplenote and you can quickly open a saved note or start a new one.
The real power of Simplenote is its fast, no-fuss synchronization. If you take meeting notes in the Simplenote app on your smartphone or tablet, they'll be waiting for you when you open up the web version back at your office computer. And the plain text format makes it easy to cut and paste into other programs.
PINBOARD
Cost: Varies
For years, you've probably saved all your favorite websites in your browser's bookmarks. And if you've ever decided to change browsers, or needed to call up a bookmarked site on a different device, you know the shortcomings of that approach. Many modern web browsers now offer synchronization so you can access your bookmarks anywhere, but an even more powerful approach is a social bookmarking tool like Pinboard.
Pinboard gives you a powerful set of bookmarking tools - you can tag sites as you bookmark them, so you can quickly access all your bookmarks on a certain subject. Bookmarks can be easily marked private, so only you can access them, or shared with colleagues. And since Pinboard is web-based, not browser-based, it doesn't matter which device or software you're using.
Pinboard charges a one-time fee which is currently $11.00. If you'd rather try a free social bookmarking service, there are plenty of options such as the perennially popular DELICIOUS.
ONOENOTE & ONEDRIVE
Cost: Free (additional cost for extra OneDrive storage)
Microsoft has been making major moves in the online productivity arena recently, with updated and improved versions of its cloud storage solution, OneDrive, and its digital notetaking app OneNote. Unsurprisingly, these products are closely integrated with Microsoft's other flagship products, including Office and Outlook, so if you make regular use of that software, OneNote and OneDrive might be a good option.

OneNote does much more than just take text notes. You can also draw or handwrite notes, record audio and video, or keep images and videos. Think of it as a filing cabinet for all your digital stuff. OneDrive works much like Dropbox, but offers more storage space on its free tier and very easy Windows integration.
* * *
All of these products can make your life easier and your work more productive, but there's no magic wand when it comes to productivity. Make sure you have a workflow that makes sense for you, and shape your technology and your tools around that system – not the other way around. If you're spending more time trying to get your latest download to work than you actually are getting work done, that's probably a sign it's not a good fit for your work style. So don't be afraid to keep experimenting, and don't forget to download a few games – you deserve a break, too!
---

Davin Kolderup
Davin is the Virtual Branch Manager at JCPL. He may own more electronic gadgets than he cares to admit, but he's an old school librarian at heart. Davin believes technology should make life easier, not more complicated. Connecting patrons with the tools that can help them get more done, learn more and have more fun is his passion.
Join the conversation at davin@jcplin.org.