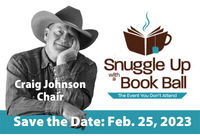 We know winter may not be the best time to attend a ball. That is why the JCPL Foundation created the Snuggle Up with a Book Ball, the event you don't attend. All you need to do is RSVP with your donation, tell us who else isn't attending, and then on February 25, you just snuggle up with a book anywhere, anytime with anyone, or no one.
This year, we are pleased to announce that The New York Times bestselling author Craig Johnson, the creative mind behind the Walt Longmire mysteries, will pose as our honorary chair. Stay tuned for more details!

Your donation goes to support the Authors at JCPL Series. By not attending you help the JCPL Foundation bring New York Times best-selling authors to our community.


Sat • Feb. 25, 2023 • All Day
Donation Levels

• Potter's Pal: <$50
• Alcott's Ambassador: $50-$149
• Shakespeare's Scholar: $150-$249
• Austen's Angel: $250+


Win Prizes for Not Attending
We will announce an hourly door prize on our Facebook page for someone who is not attending.
WHEN:
Anytime and for as long as you wish to celebrate on Saturday, February 25, 2023.
WHERE:
Wherever you are - wrapped up in a quilt by a fireplace, on your sofa with your cat, in a coffee shop or anywhere your book leads you!
HOW:
Grab a book (or several) and read! Support the Authors at JCPL series to continue to bring award-winning, New York Times best-selling authors to Johnson County by donating what you would have spent on a fancy gala! Share your love for JCPL on Facebook or Instagram, with the hashtag #JCPLBookBall or #JCPLsnuggle and tell us what you are reading.
ATTIRE:
Black tie pajamas, evening gown pajamas, regency era costumes, sweats, t-shirt, jeans or any old pair of pajamas.
FOOD & DRINK:
A proper mug of tea and shortbread, hot cocoa and buttered toast, Cabernet Sauvignon and extra sharp cheddar cheese, cappuccino and a glazed cake doughnut or cherry-coke with hot Cheetos – anything goes!
OPTIONAL GUESTS:
While Snuggle Up with a Book Ball is a perfect activity for one, or however many you are comfortable not attending with. Feel free to invite your loved ones, family, friends, children, your book club members, cats, dogs, via Zoom, Facebook Live or anyway you feel safe!
Thank You To Those Who Donated to the 2022 Snuggle Up with a Book Ball
POTTER'S PALS
Jaymi Adams, Brenda Blanchard, Devin, Heather and Evie Clawson, Erica Cuatlacuatl, Brandi Hall, April Hannum, Karen Lasko, Jenny Moore, Lindsey Morris, Cindy Murphy, Marti & Brad Schrock, Kelly Staten, Sarah Stoel, Susan Thompson, Jennifer Vance, Kaitlin White
ALCOTT'S AMBASSADORS
Gretchen Beaman, Jane Bingham, Diane Black, Jessica & Tim Briscoe, Cindy & Dave Broshears, Sara Colburn-Alsop, Carol & Mark Davis, Caleb & Rachel Drake, Barb Dunn, Andrea & Benjamin Fisher, Paula Fleener & Penny Hethcote, Jan & Eric Fredbeck, Cecelia Heid, Jennifer & David Light-Holets, Holly Kubancsek, Lisa Lintner & Nick Valenzuela, Craig & Morna McCall, Jennifer & LuLu Parker, Cindee Phillips, Gigi Shook, Turner Family, Nathaniel & Jennifer Uhl, Jody Veldkamp, Charlie & Nina Winters-Plotkin
SHAKESPEARE'S SCHOLARS
Scott & Holly Kincaid, Christina Kirk & the Gene Kirk Family
AUSTEN'S ANGELS
Amanda Cooper & John Abbott