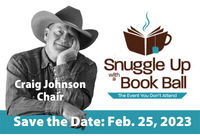 We know winter may not be the best time to attend a ball. That is why the JCPL Foundation created the Snuggle Up with a Book Ball, the event you don't attend. All you need to do is RSVP with your donation, tell us who else isn't attending, and then on February 25, you just snuggle up with a book anywhere, anytime with anyone, or no one.
This year, we are pleased to announce that The New York Times bestselling author Craig Johnson, the creative mind behind the Walt Longmire mysteries, will pose as our honorary chair. Stay tuned for more details!

Your donation goes to support the Authors at JCPL Series. By not attending you help the JCPL Foundation bring New York Times best-selling authors to our community.
Click the button below to learn more on the JCPL Foundation's website.