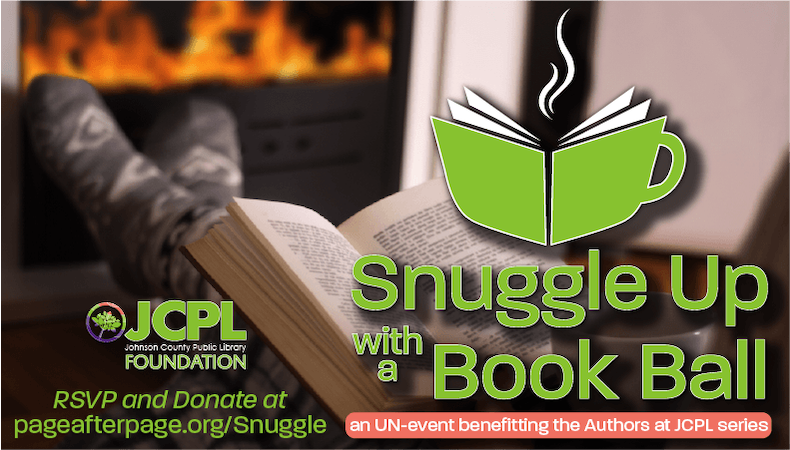 Snuggle Up with a Book Ball
The Johnson County Public Library Foundation requests the pleasure of your participation in our first Snuggle Up with a Book Ball!
The coziest non-event fundraiser benefiting the Johnson County Public Library's Authors at JCPL
series.
Attend our un-event from the comfort of your own home.

Sat / Jan. 25 / All Day
Drop off a cash or check donation at one of our branches! You can also call 317-738-9835 to make your gift over the phone, or mail it to the JCPL Foundation at 49 E. Monroe Street, Franklin, IN 46131.
WHEN:
Anytime and for as long as you wish to celebrate on Saturday, January 25, 2020.
WHERE:
Wherever you are - wrapped up in a quilt by a fireplace, on your sofa with your cat, at the library, in a coffee shop or anywhere your book leads you!
HOW:
Grab a book (or several) and read! Support the Authors at JCPL series to continue to bring award-winning, New York Times best-selling authors to Johnson County by donating what you would have spent on a fancy gala! Share your love for JCPL on Facebook or Instagram and tell us what you will be reading – remember to include the hashtag #JCPLBookBall or #SnuggleUpBookBall. Join us from noon to 8 p.m. on Facebook for special prizes for donors! https://www.facebook.com/jcplfoundation/
ATTIRE:
Black tie, pajamas, evening gowns, pajamas, regency era costumes, pajamas, pajamas or pajamas.
FOOD & DRINK:
A proper mug of tea and shortbread, hot cocoa and buttered toast, Cabernet Sauvignon and extra sharp cheddar cheese, cappuccino and a glazed cake doughnut or cherry-coke with hot Cheetos – anything goes!
OPTIONAL GUESTS:
While Snuggle Up with a Book Ball is a perfect activity for one, feel free to invite your loved ones, family, friends, children, your book club members, cats, dogs – all are welcome!
THANK YOU TO OUR SPONSORS
Sara, Dan, Tristan & Tinsley Alsop

Heather Devin & Evie Clawson

Sarah Nathan & Madison Gilly

Kathleen & Andrew Ratcliff

Davin & Christina Kolderup

Lisa Lintner & Nick Valenzuela

Tandy Shuck & Michael Waddick