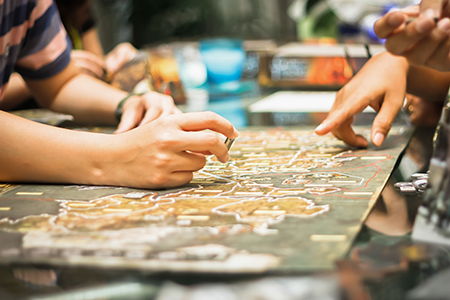 Once left to gather dust in hall closets and under beds, tabletop games are making a comeback as mainstream entertainment for family and friend game nights, and even parties. Growing evermore popular, cafes and bars are including game libraries for their guests to enjoy. However, this resurgence may be news to the die-hard players who never traded traditional gaming for technology.
Sure, there have always been more "hard core" gamers among us who play fantasy games like Dungeons and Dragons and fans who enjoy collectable card games like Yu-Gi-Oh and Pokémon who partake in national tournaments. But now that the novelty of electronic gaming has worn off, more and more people are opting to dig out those family favorites and even try some new titles.
For loyalists, tabletop games never went out of fashion. Plenty of families have continued to play cards or gather around traditional board games like Monopoly and Life. Now as tabletop gaming is enjoying a re-discovery, people are realizing the appeal of gathering around the table for a game. So, whether you've been playing for years or are newer to this pastime, there are plenty of types of games to suit your interests.
If you're ready to venture out past the gaming shores of the old favorites, you're likely looking for a place to learn more about what's out there. Of course, the web hosts one of the best resources to learn more about games - Board Game Geek. This site has an extensive database of games, with many ways to search. You can look up games by age range and number of players, but also by how the game is played, how long it takes to finish a game and by game theme. And if you have a need to modify a game to include more players or shorten the game time, visitors to the site post "alternate rules" and modifications.
If you want to get out and play a game, Comic Book University has Board Game Night on Tuesdays from 6-9 p.m. Game Preserve has a variety of game nights, and the store has long been an Indiana tradition for all things board game. Game Paradise is an excellent place to try out games - they will even help you choose what to try. They have a huge selection of games to play in the store, and you can buy snacks or bring your own food. If you want an adult beverage with your fun, Kingmakers "Game Sommeliers" will not only serve you, but also assist you with choosing and playing the perfect game for your group.
Other ways to try out table top gaming are at conventions. You may know about Gen Con, but Who'sYer Gamers puts on free events. Their mission is to introduce people to tabletop games and they welcome new players who want to learn about board gaming. Most conventions have game libraries with games to try out, but adding to the fun are cosplayers, venders and special guests and events.
Are you game to try something different at home without taking a chance on buying a game that may or may not become a favorite? Well, the library offers board games for checkout, sort of a try-before-you-buy! Each library branch has a variety of titles that range from strategy and world-building games such as Cataan to simple stacking fun like Animal Upon Animal. And we give you plenty of time to learn the rules and play with family and friends, with check-outs for three weeks per game!
We'd love for you to stop by and see what we have to offer. You might even discover a new favorite!