Want to connect with your family via Skype or FaceTime, learn how to use your new digital camera or explore JCPL's digital content?
Davin Kolderup, Clark Pleasant Branch Manager, provides helpful information for you in his Technology Tips blog. Click on the topic below to read his ideas and advice.
Ask questions. Share with family and friends. Join the conversation.
---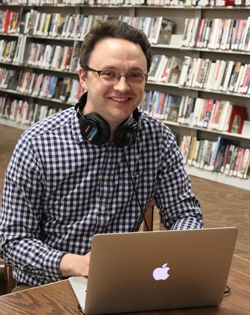 Davin Kolderup
Davin is the Clark Pleasant Branch Manager at JCPL. He may own more electronic gadgets than he cares to admit, but he's an old school librarian at heart. Davin believes technology should make life easier, not more complicated. Connecting patrons with the tools that can help them get more done, learn more and have more fun is his passion.
Contributors: Wes Klutts and Annemarie Wallace
---
Connect With Davin
Do you have a blog topic idea or question about Technology?
Technology Tips Recommended Library Resources
Lynda.com - Online video learning for Microsoft Office, Photoshop, programming, web development and more. Free with your JCPL card.
Dummies Books - JCPL has a wide variety of computer books in the popular "Dummies" series.
The Wirecutter - In-depth reviews of computers, mobile devices and other technology gear.
Gale Courses - Free online courses for JCPL patrons. Learn computer applications like Microsoft Office, Web page design and much more.
The Verge - Breaking news from the world of technology.
Codeacademy - Learn to build and program websites for free.