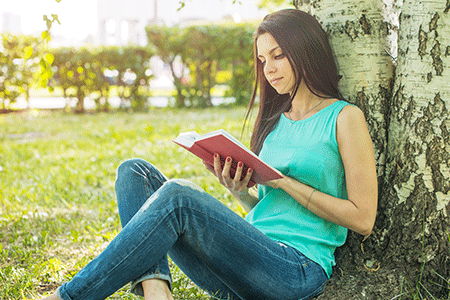 Everyone enjoys a good coming of age story although what do you read if you're out of high school but not quite an adult?
Not everyone enjoys jumping straight into adult fiction; it can be daunting and hard to relate to, especially if you're still living with your parents, shacking up with four roommates or staying in a dorm.
New adult includes books that are a step up from young adult (YA) and has also been referred to as upper YA, crossover fiction, coming-of-age fiction and mature YA. It's an in-between genre that has become very popular.
Depending on whom you talk to, new adult is either one of the most loved or fiercely hated literary trends to emerge this decade. Many decry it as a mere marketing ploy, while others are excited that an overlooked demographic is finally getting it's share of the spotlight.
One of the largest misconceptions about the new adult genre is that it's all about sex (a misconception I will admit I once shared.) Truth be told, there are a few more steamy scenes, but that is likely because of the age difference between the audiences; it's not high school romance, things tend to heat up quicker in college.
Just because some "adult" scenes may be mentioned in the book, though, doesn't mean it's described in graphic detail à la E.L. James's "Fifty Shades of Grey." Sex may occur in new adult books but not be described, it might be related vividly or it might not happen at all. This genre has much more to offer then sex; it portrays the transitioning to adulthood that takes place post–high school.
Protagonists are generally aged 18 to 26 and are experiencing one or more of the following for the first time: college, a full-time job, military deployment, a serious relationship, moving away from home, etc. It's a bittersweet time, and authors try to capture the struggles and joys that come with transitioning to that next stage of life. Other issues that are addressed include depression, suicide, drug abuse, identity, sexuality, bullying, fear of failure, independence and mental illness, many of which are often addressed in YA materials.
This genre continues to skyrocket in popularity thanks to self-publishing and e-books. As more titles crack The New York Times best-sellers lists and word-of-mouth grows, the demand for related titles increases as well. While the themes and content aren't all brand-new, the demand is. For years, Francesca Lia Block (author of the "Weetzie Bat" series) dominated the scene before anyone knew what to call the genre. Coming-of-age stories have always been around, but they haven't been as prevalent or as "steamy." The books appeal to more than their intended audience just as with the "Harry Potter" and "Hunger Games," new adult works have mass appeal among teens and adults.
So now you know what new adult is, where should you start? Here are some titles that the Johnson County Public Library owns:
Boomerang by Noelle August
Weetzie Bat by Francesca Lia Block
Hopeless by Colleen Hoover
Beautiful Disaster by Jamie McGuire
Flat Out Love by Jessica Park
The Edge of Never by J.A. Redmerski
Thoughtless by S.C. Stephens
On Dublin Street by Samantha Young
An Age of License by Lucy Knisley (graphic novel)
Calendar Girl: Volume One by Audrey Carley
---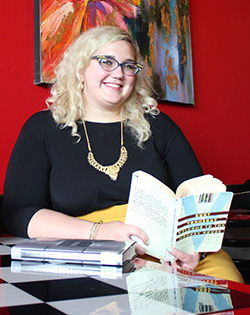 Erin is a librarian at the Clark Pleasant Branch. She's been a voracious reader since the age of three and is a bit of a book junkie. She is involved in five book clubs and publishes book reviews in SOUTH Magazine, Library Journal and online. Erin also co-leads JCPL's Stout Stories book discussion. Erin will read just about anything: young adult, fantasy, romance, microhistories, thrillers, you name it. She loves helping people find that perfect book.
Join the conversation at erin@jcplin.org.
Sign Up to Receive 'Now You Know'