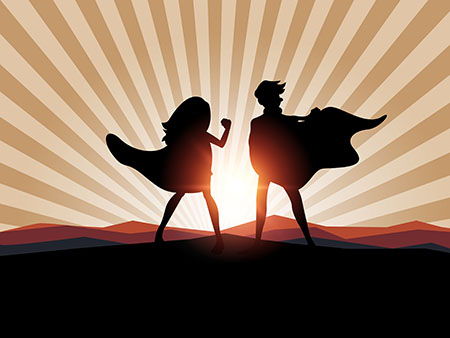 Graphic novels are growing in popularity and not just with teens! For years they've been an under valued and over criticized format, but they're beginning to pick up steam and there are entire college courses dedicated to their study. Many people (especially parents) have been quick to point out that they are not challenging enough for kids, or that they're just glorified picture books, or that they don't even count as literature. But honestly, those are just common misconceptions. Graphic novels are a legitimate form of storytelling, and they have many classic literary themes – like humanity, heroism and overcoming insurmountable odds.
Reading graphic novels can expand a reader's imagination by giving them another opportunity to think about how or why the author chose the wording or imagery that they did. Their popularity is also mounting due to the myriad of movie adaptations ("Watchmen," "Deadpool," "Black Panther" and "Atomic Blonde," just to name a few.) If you haven't already, give graphic novels a chance. The library has a large selection of juvenile, young adult and adult graphic novels. Below are 10 award winning graphic novels that you'll find on JCPL's shelves.
"Watchmen" by Alan Moore
Not only did this win the prestigious Hugo Award it was also the only graphic novel on Time's List of Best Novels of All Time. Watchmen chronicles a group of super-heroes fall from grace as they are plagued by all too human failings.
"Maus" by Art Spiegelman
Maus addresses the horror of the Holocaust through cartoons, using mice (Jews) and cats (Nazis) as the characters. Spiegelman captures the everyday reality of fear and is able to explore the guilt, relief and extraordinary sensation of survival; breathtaking and haunting.
"V for Vendetta" by Alan Moore
"Remember, remember the fifth of November..." Set in an imagined future England that has given itself over to fascism, this graphic novel captures both the suffocating nature of life in an authoritarian police state and the redemptive power of the human spirit, which rebels against it.
"Persepolis" by Marjane Satrapi
Persepolis is the groundbreaking story of Satrapi's unforgettable childhood and coming of age in Tehran during the Islamic Revolution. It shows the horrors of living in a war-torn nation, as well as how terrifying it was to live in a country run by religious fundamentalists/fanatics.
"Batman: The Dark Night Returns" by Frank Miller
This masterpiece brings to life a dark world and an even darker man. Frank Miller completely reinvents the legend of Batman in his saga of a near-future Gotham City gone to rot, 10 years after the Dark Knight's retirement.
"Batman: The Killing Joke" by Alan Moore
This comic showcases the Joker's madness as he tries to drive the Commissioner Gordon insane by shooting his daughter and taking him to a carnival of horrors. With Batman's help, Gordon is able to stay strong and fight the insanity. Together they must defeat the Joker once and for all.
"Blankets" by Craig Thompson
Blankets explores the sibling rivalry of two brothers growing up in Wisconsin, and the budding romance of two coming of age lovers. A tale of discovery and security, of playfulness and tragedy, of a fall from grace and the origins of faith.
"Fables" by Bill Willingham
When a creature known only as the Adversary conquered the fabled lands of legends and fairy tales, all the inhabitants of folklore were forced into exile. Disguised among the normal citizens of modern-day New York, these magical characters have created their own peaceful society.
"The Walking Dead" by Robert Kirkman
An epidemic has swept the globe causing the dead to rise and eat the living. In a matter of months society has crumbled. In a world ruled by the dead, humans are forced to finally start living, but what happens when humanity becomes more of a threat than the dead?
"The Sandman" by Neil Gaiman
The Sandman is the ruler of the realm of dreams and finds himself continually caught up in human drama. An unforgettable tale of the forces that exist beyond life and death by weaving ancient mythology, folklore and fairy tales with his own distinct narrative vision.
---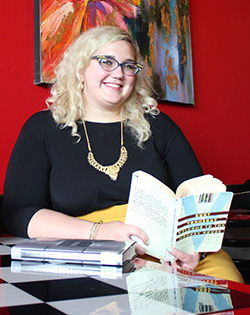 Erin is a librarian at the Clark Pleasant Branch. She's been a voracious reader since the age of three and is a bit of a book junkie. She is involved in five book clubs and publishes book reviews in SOUTH Magazine, Library Journal and online. Erin also co-leads JCPL's Stout Stories book discussion. Erin will read just about anything: young adult, fantasy, romance, microhistories, thrillers, you name it. She loves helping people find that perfect book.
Join the conversation at erin@jcplin.org