Many of us take the opportunity in summer to do some traveling - whether just up the highway to Indianapolis or Chicago, or to far-flung countries on the other side of the globe. Whether you're a world traveler, or just want to get a taste of other cultures, there's quite a bit you can do with your library card and your computer or mobile device to increase your international IQ.
<ul>
Greet your neighbors in a new language
We're very excited to offer our brand-new language learning resource, Transparent Language Online, to JCPL cardholders. You can choose from dozens of different languages and dialects and start learning right away. Keep your vocab fresh with daily emails, and learn on the go with the free Transparent mobile app. Learn more here.
Save room in your suitcase with an online travel guide
Our Hoopla Digital content service features hundreds of titles in the popular Lonely Planet series. Check out and read full-length travel guides for the most popular cities and countries in the world, or check out the Road Trips series if you want to get off the tour bus and do your own exploring. Learn more here.
Read a book in another language
If you can read another language, or want to test your new skills, you can explore our new collection of International Fiction available for checkout from CloudLibrary. We've got titles in Spanish, Chinese, Hindi and Japanese. These e-books are available for checkout on your computer, mobile device and many popular e-readers. Learn more here.
Once you've tried all this out, don't forget the best part of learning about other languages and cultures – actually meeting people and making new friends from around the world! JCPL is giving you a unique opportunity to do just that this summer with our brand-new program series, At Home in Johnson County. Every Saturday through July 22, join us at one of our branches and the Greenwood Public Library to learn more about the culture of a country that is proudly represented right here in Johnson County. Visit pageafterpage.org/athome for more information and a full schedule of events. And stay tuned for more At Home in Johnson County programs in the future!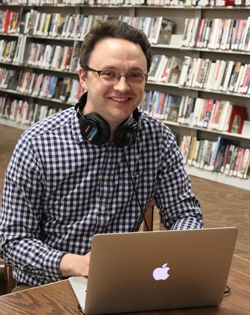 Davin is the Virtual Branch Manager at JCPL. He may own more electronic gadgets than he cares to admit, but he's an old school librarian at heart. Davin believes technology should make life easier, not more complicated. Connecting patrons with the tools that can help them get more done, learn more and have more fun is his passion.

Join the conversation at davin@jcplin.org.