Yes, you can have your best friend's cousin's brother build your business website.
In fact, your sister-in-law's 12-year-old middle school student can create one too.
Or don't forget the free website program that advertises at 3 a.m. on Nick @ Nite.
Before going one of those routes, though, you might need to answer these questions: Can a middle schooler accurately capture your brand and message? Who do you call if the Midnight Special site doesn't work? And who solves the mystery when cousin Eddy throws away your site's administration access password with his candy wrappers?
Small business owners make lots of important decisions every day. One of them should be how best to tell their story on the web.
A well-functioning website gives your business a presence 24/7; it provides the research customers need when considering your products or services; and it is the most cost-effective way to advertise.
That is why it's best to leave website projects to professionals, just like the ones you hire to take care of your legal and accounting work. A digital marketing firm can help you through the process and make your investment worthwhile.
For example, when making a commitment to a new website or revamping your existing one, you have two options – Custom or Template. While the differences might seem obvious, here are a few factors to help you decide which is best:
Template
These are sometimes called "cookie cutter" websites because the design and features are pre-programmed. The most popular (and reliable) is WordPress. These templates are usually housed by hosting companies, such as Gator Host or Go Daddy.
You should consider a template site if:
You need a simpler website, maybe just a few pages.

You need or want a web presence very quickly – usually in a matter of weeks.

You are okay with a design that might look similar to other websites. There are some creative templates for WordPress sites, though, to help your site stand out.

You need your website to be portable. If the person or company that built your site is no longer in business, you still have access to your site. The files also can be transferred to another host.

You or someone in your company knows how to customize a WordPress template.

You or someone in your company can provide the majority of technical support.

You don't need lots of features – like ecommerce on your website.

You know how to take care of software updates – especially ones that involve security and feature software compatibility.

You or someone in your company knows how to write web-search-friendly content.

You are willing to invest between $6,000 and $10,000 for a website and content development.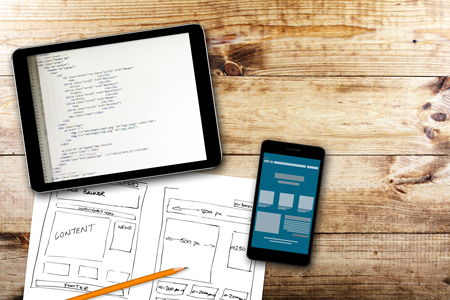 Check Out These Online Resources at the Johnson County Public Library
AtoZdatabases
Find a job, business, person or create mailing lists & sales leads. AtoZdatabases is an essential tool for your marketing campaign, helping you reach new movers and homeowners, as well as consumers by location, income, home value and interest.
Access
Business Source Complete
Contains full text from the world's top business journals and is particularly strong in both management and marketing. Provided by INSPIRE.
Access
EBSCO Management Collection
Provides access to news and articles on topics in business, banking, law, finance, management, advertising, human resources and more. Provided by INSPIRE.
Access
International Directory of Company Histories
Provides histories of companies that are a leading influence in a particular industry or geographic location.
Access
Regional Business News
Provides comprehensive full text for regional U.S. business publications covering business, politics, and economics. Provided by INSPIRE.
Access
Small Business Reference Center
This database offers exclusive full text for many top consumer small business reference books, as well as the necessary tools and instructions to address a wide-range of small business topics. In addition, it provides business videos, a help and advice section, and information on how to create business plans. Provided by INSPIRE.
Access
Value Line
This is your gateway to a powerful investment resource. Value Line provides access to a vault of investment research, approximately 3,500 stocks, data, expert analysis, and unbiased commentary with a time-tested and performance-proven Ranking System. It includes the The Value Line Investment Survey®— Small & Mid-Cap. Please be aware that there is a limit of four (4) simultaneous users.
Access
Custom
These are created (from scratch) by a digital marketing company or agency. They reflect your unique business brand and serve as the Mother Ship of your company's marketing program.
You should consider a custom site if:
You believe your website is as important as your store front.

You are an absolutely customer-centric company.

You have specific expectations for your brand presentation. Your "look" and "message" are critical to your success.

You have more advanced needs for integration – such as ecommerce and database searches.

You don't want your website design or function to be limited.

You are willing to take the time to go through a more involved decision-making and site-building process.

You want a responsive website – one that functions well on desktops, laptops, tablets and smart phones. (Note: More WordPress templates are now responsive as well.)

You want search-engine optimized content created by professionals.

You are willing to invest between $20,000 and $25,000 (and up).

No matter which route you choose, the decision should be thoughtful – and in the best interest of your business. In other words, you get what you pay for when it comes to your digital marketing.
Jeff Owen is president of J Owen Media, a digital content and marketing company in Franklin.
Bright Ideas for Business is an information sharing program of the following community partners:
Johnson County Development Corporation

Visit the Bright Ideas for Business section on PageAfterPage.org.