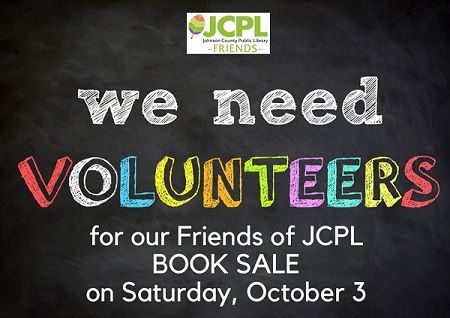 SIGn Up to Volunteer at the Sale

The Friends need assistance during the 2:00 - 6:00 p.m. time period to keep the book sale tables in order, add additional materials to the tables to sell, assist shoppers with their books to their vehicles, etc.
At 6:00 p.m. they need help packing up the books and breaking down boxes and tables.
Used Book Sale Calendar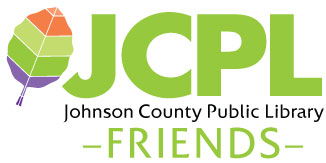 Mark your calendar now with the dates of the Friends of Johnson County Public Library Book Sales. Books, CDs, DVDs, audio and video tapes, and books-on-tape/CD will be sold at bargain prices. Items may be purchased with cash, check or credit card.
We offer gently used hardback and paperback books for every age in every genre, including large print titles.
Items in the book sale include withdrawn library titles and items donated by JCPL patrons. For more information about how to donate, consult our FAQ.
2020

Sat / Oct. 3 / 10 a.m. - 6 p.m.
Outdoor Sale in the parking lot--$5 bag sale will be held from 3 to 6 p.m.
Franklin Branch
This Sale Only: The Friends will give shoppers a free book if they bring in a nonperishable food item (one per person) for the Franklin Branch Little Free Pantry.