Volunteering doesn't have to be a huge time commitment. There are opportunities in Johnson County that range from one time, to once a month, to a weekly schedule. Volunteering not only helps out community organizations, but can also provide you valuable job experience, social connections, and service hours and experience to highlight on resumes and college applications. Many of these organizations need office assistance and even graphic designers or other positions with special skills. And, don't forget that volunteering for special events gives you the chance to attend for free!
United Way Community Partners: A good place to start looking for volunteer openings is the United Way of Johnson County. They not only have positions for their organizations, but for over 40 of their partners. Some of them even have internships available to gain valuable work experiences. Organizations such as Gateway Services, Meals on Wheels, Head Start, the YMCA, Scouts and Big Brothers/Big Sisters all need to fill various positions.
Caregiving: Senior Centers such as The Social of Greenwood and The Active Adult Center always need people to help with special events, food service and more. Some agencies like Johnson County Senior Services need drivers to transport residents who can no longer drive. Hospitals often need volunteers to visit with patients or to provide respite care for caregivers. These opportunities are always rewarding and there are many openings. Check with your local hospital for more information.
Tutoring: Tutors are needed both for kids and adult learners. Franklin Education Foundation pairs volunteers with students for their Study Buddies program. Even if you don't remember your middle school math, you can tutor! The program provides you with training. The Adult Learning Center at the library pairs tutors with adult learners to teach basic reading skills or English as a Second Language with a mix of lessons and informal conversation.
Work with Animals: Animal lovers can help in many ways. From fostering pets until they find their forever home, to assisting with adoption events and more. There are rescues for every type of pet you can imagine from small pets and birds to mastiff sized dogs. Petfinder is a great place to start to find listings of many of the local animal rescues.
Physically Active Opportunities: If you are an active person, you can volunteer for charity 5K races almost every weekend. Often you get to run the event for free. Girls on the Runneeds coaches and Running Buddies for their 5K, where you can get paired with a girl to run with her, or to coach a group. Animal shelters often need dog walkers, so you can get your miles in with a furry friend. Relay for Life has annual walk-a-thons in our community.
Checkout Volunteer Fairs: The White River Branch of JCPL has begun hosting an Annual Volunteer Fair to help people find their perfect volunteer match. This year's was on Sept. 24. A few adorable kittens from Robin's Nest got a foster home, many people picked up information and applications from various groups and learned more about their community. Don't forget your library branch may need volunteers, too.
Finding your perfect match is so rewarding and can be so much fun. Our community groups have so many needs that once you start looking you'll be surprised at what you'll find!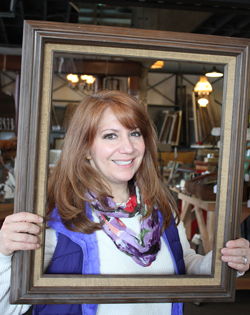 Amy is a librarian at the White River Branch. At heart, she is an adventuress who loves to try and learn new things with family and friends…even if she ends up an epic failure. Having fun while doing good for others makes for the best adventures. So look for Amy shopping at thrift stores, running for a cause or eating and drinking at fundraisers!

Join the conversation at amy@jcplin.org