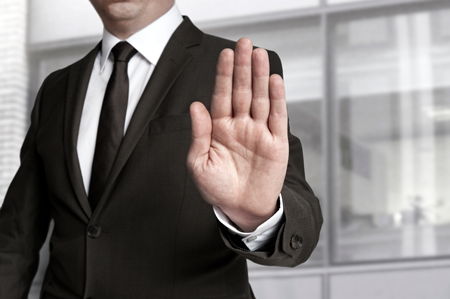 Be honest. Admit it.
Being told "No thanks" by a prospective client or customer is hard. The rejection not only dampens your business plans, it hurts emotionally.
You sit in your office and question everything - especially your ability. Your mind wades into negative waters.
You recall other rejections - like getting cut from the eighth grade basketball team or losing the lead in the high school play to that no-talent Roger.
Rejection of your business doesn't make sense to you. You did everything right. You showed them you were capable and competent. You prepared a fair quote. You were pleasant in your sales calls. You answered all of their questions. Yet, you were told "No", and it stinks.
Welcome to the real world of entrepreneurism. It happens. According to Harvard Business Review, small businesses lose about 70 percent of leads.
Henry Ford's first two car companies failed and left him broke. Tech billionaire Mark Cuban failed as a carpet layer, a cook and a waiter (he couldn't open a bottle of wine). Walt Disney was fired by an editor because, "he lacked imagination and had no original ideas." Thomas Edison, who was told by a teacher that he was stupid, tried several thousand experiments before he created a successful light bulb.
So, quit beating yourself up. Here are five ways to handle rejection in the world of business:
Put away the gas can and matches. Never burn down the bridge you built with a potential customer. You may have an opportunity to cross it again. Keep your emotions in check. Many factors go into business decisions. In most cases, emotion is not one of them. You also never know if the competitor will work out with them. It's possible the potential customer might call back six months later and ask you to rescue them. Finally, that potential customer might recommend you to a colleague who has similar business needs.

Follow up with a note and a smile. Send a hand-written note to the potential customer, thanking them for the opportunity to talk about their business needs. Be genuine in your response. Tell them how much you appreciated their consideration. Offer to help them with other projects in the future. Make certain to include your direct telephone extension or cell phone number. Keep the conversation going.

Ask how you can improve the process. A short telephone call or email asking them why you didn't get selected is appropriate. Again, keep emotion out of it. Simply ask: "Just like you, we are always working hard to improve our business. Would you mind sharing two or three reasons why we might be considered for future projects?" While some potential customers might be uncomfortable giving an answer, you may be surprised what they share.

Reach out to other entrepreneurs. Make certain you have a great support system within your industry. Talk to others about how they close leads. Ask them to evaluate your closing process and your pricing. You might learn a new trick to finishing the deal. Also, it's likely they have been rejected as well. You will feel better commiserating with someone else who has felt your pain.

Remember your accomplishments, and review them frequently. One of Saturday Night Live's great fictional characters is Stuart Smalley, an insecure self-help guru who looks into a mirror and says: "I'm good enough, I'm smart enough, and doggone it, people like me."

Check Out These Online Resources at the Johnson County Public Library
AtoZdatabases
Find a job, business, person or create mailing lists & sales leads. AtoZdatabases is an essential tool for your marketing campaign, helping you reach new movers and homeowners, as well as consumers by location, income, home value and interest.
Access
Business Source Complete
Contains full text from the world's top business journals and is particularly strong in both management and marketing. Provided by INSPIRE.
Access
EBSCO Management Collection
Provides access to news and articles on topics in business, banking, law, finance, management, advertising, human resources and more. Provided by INSPIRE.
Access
International Directory of Company Histories
Provides histories of companies that are a leading influence in a particular industry or geographic location.
Access
Regional Business News
Provides comprehensive full text for regional U.S. business publications covering business, politics, and economics. Provided by INSPIRE.
Access
Small Business Reference Center
This database offers exclusive full text for many top consumer small business reference books, as well as the necessary tools and instructions to address a wide-range of small business topics. In addition, it provides business videos, a help and advice section, and information on how to create business plans. Provided by INSPIRE.
Access
Value Line
This is your gateway to a powerful investment resource. Value Line provides access to a vault of investment research, approximately 3,500 stocks, data, expert analysis, and unbiased commentary with a time-tested and performance-proven Ranking System. It includes the The Value Line Investment Survey®— Small & Mid-Cap. Please be aware that there is a limit of four (4) simultaneous users.
Access
Well...do that!
It's human nature to dwell on the negative events in our lives. Being told "No" in business can take up lots of valuable brain space, if you allow it.
Here's one additional way to affirm your purpose: On one of your business cards, write: "I think I am OK." Tape it to your computer monitor. Look at it every day. It works.
So, don't dwell on the rejection any longer. Figure out what you learned to stay competitive, and get back out there.
And remember another Stuart Smalley piece of advice: "It's easier to put on slippers than to carpet the whole world."
Jeff Owen is president of J Owen Media LLC, a communications and strategic planning company.
Bright Ideas for Business is an information sharing program of the following community partners:
Johnson County Development Corporation

Visit the Bright Ideas for Business section on PageAfterPage.org.