What to Read

Want to know about the latest and greatest books on the shelf? Are you looking for your next great read? Want to explore a new genre?
Erin Cataldi, librarian at the Clark Pleasant Branch provides helpful information for you in her What to Read blog. Click on the topic below to read her ideas and advice.
Ask questions. Share with family and friends. Join the conversation.
---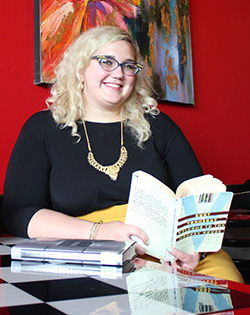 Erin Cataldi
Erin is a librarian at the Clark Pleasant Branch. She's been a voracious reader since the age of three and is a bit of a book junkie. She is involved in five book clubs and publishes book reviews in SOUTH Magazine, Library Journal and online. Erin also co-leads JCPL's Stout Stories book discussion.
Erin will read just about anything: young adult, fantasy, romance, microhistories, thrillers, you name it. She loves helping people find that perfect book.
Contributors: Keeley Payne and Elyssa Everling
---
Connect With Erin
Do you have a blog topic idea or question about What to Read?
What to Read Recommended Library Resources
What should I read next? - Get Book Reviews & Recommendations From Trusted Sources
Book Sizzle - Published every Friday, BookSizzle features the newest and hottest titles at the library.
Find Your Next Book - Free service that allows a librarian to help you find books
BookPage - Free journal on upcoming books that can be found at any branch
Goodreads - Share book recommendations, join an online book club, connect with other readers, and more.
New York Times Best Seller's List
Your Next Read - A website that makes discovering, buying and enjoying a book simple.
Whichbook - A website that factors in millions of combinations and factors to suggest which books match your needs.
Library Read-Alike Pamphlets - Ask a librarian for copies at your branch.