Forget Trump's testy tweets, Hillary's emails hosted in a closet and that 14-year-old candidate Deez Nuts.
Beyond all the clamor on Morning Joe, you need to remember that "All politics is local" - as the late Associated Press Washington Bureau Chief Byron Price wrote in 1932.
If you own or operate a small business, what are the top legislative issues you should know about? What are the hot issues being discussed in Johnson County?
Funding, policies, healthcare, pensions, education and religious freedom are all buzz words that you've probably heard throughout the year.
For example, if State Road 37 becomes the final phase of the Interest 69 project, it will have a profound effect on businesses in western Johnson County. (Whether that is good or bad depends on whom you ask.)
On a more local level, the public investment into Downtown Franklin's infrastructure has spurred remarkable small business growth, especially with privately owned shops, offices and independent restaurants. Use of Tax Increment Financing Districts have provided unique funding for these projects. Yet, they can be politically controversial.
So where do you find out more about these topics and how they affect your business?
We asked Janice Bullman, Executive Director of the Franklin Chamber of Commerce, to share with us where to follow the politics of business. Here is what she suggests:
Attend Public Meetings
To learn about the workings, philosophies and plans for our cities, towns and county, I would encourage businesses and individuals to attend public meetings on a regular basis. Get the inside scoop in your town or county at these public meetings: City and Town Council meetings, Board of Works, Development Commissions, County Commissioners and County Council. Information about meeting dates and times are listed on the government entities' websites and include an agenda and minutes from previous meetings.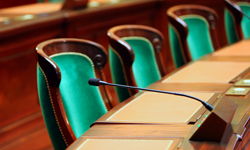 Where Else To Follow Business and Public Policy Developments
Johnson County Development Corporation
Indiana Association of Cities and Towns
Association of Indiana Counties
Indiana Economic Development Corporation
Small Business Administration - Indianapolis
Join the Local Chambers
Chambers of Commerce (local and state) host round table discussions or presentations from elected officials. The Greater Greenwood Chamber of Commerce offers Business Matters Luncheons and the Legislation Matters Series for their members. These opportunities allow you to learn about key legislative issues that are important to your business and of course network with other business representatives. You can follow the Chamber's legislative insight opportunities by clicking here.
Learn about the current legislative session and how it affects your business at The Franklin Chamber's Legislative Breakfasts. The Franklin Chamber also sends out a weekly eNewsletter that informs members about business related issues and Chamber opportunities. Learn more about the Franklin Chamber by clicking here.
Join the State Chamber
The Indiana Chamber does a good job of keeping members informed on legislative issues happening in Indiana and Washington D.C. Click here to see their Legislative Resources.
JCPL Business Resources
Johnson County Public Library offers patrons access to business databases, online classes and downloadable e-books on a variety of business topics. Click here to access JCPL's online resources.
Do Your Own Research
These suggestions will put you on the right path to learning more about the politics of business. Don't be afraid to do your own research to find out what hot topics will affect your business.
Monica Harvey is a Community Relations Specialist with the Johnson County Public Library.
Bright Ideas for Business is an information sharing program of the following community partners:
Johnson County Development Corporation

Visit the Bright Ideas for Business section on PageAfterPage.org.