Space - the final frontier of closing the deal for entrepreneurs.
GoTo Meeting allows us to virtually talk and view computer desktops anywhere in the world. Yet, even the most technologically advanced customers still want to meet face to face during important phases of the business development process.
But where are some great places to meet your clients?
Many new ventures start and operate in basements, spare bedrooms and garages, which are not ideal environments for client meetings. Really, who wants to talk business while sitting next to the dirty laundry?
While some people might like the informality of negotiating at a kitchen table, it's probably better to work through the deal at a more professional location.
The time of the meeting might determine the most appropriate place. If the client or customer wants an early-morning discussion, then a favorite restaurant that serves breakfast seems ideal - like Ann's Restaurant in Franklin.
An "end of the day" meeting might be best discussed at a favorite brewpub such as Taxman in Bargersville, Oaken Barrel in Greenwood or The Willard in Franklin. A new spot, Scotty's Brew Club, at Hillview Country Club in Franklin has a perfect atmosphere too.
Lots of business meetings happen at chain restaurants such as Applebee's and Chili's. Those are good places, especially if you and your client prefer the efficiency of eating lunch and reviewing proposals in one hour.
What if you don't want a full meal deal, though?
Here are five places that you also might consider when meeting clients in Johnson County.
The Franklin and Greenwood Chambers of Commerce offices. Both have meeting spaces available for small businesses to use for a short period of time - as long as you schedule them in advance. Naturally, chamber members get first dibs, and non-members are charged a small fee. But if you have not joined, it's ok to ask if you can still use their meeting rooms. (They will say "yes" and then use the opportunity to inform you about benefits of membership!)
Local banks. Most of the banks in Johnson County have some type of community room or meeting space. Check with your bank to see if they offer that service for free or a small fee. Banks love to help entrepreneurs.
Coffee houses. These are perfect for a more relaxed approach to the meeting, and without the large crowds that tend to turn out at restaurants. Starbucks is a great because it is hip, it smells like business and you can wave your app-loaded iPhone to pay for a Grande Cappuccino. However, the privately operated coffee houses can be even more accommodating for privacy and they can be a bit quieter. We have some excellent coffee houses in Johnson County -- such as Benjamin's on the square in Franklin or Strange Brew in Greenwood.
Hotels. Most of the hotels in the Johnson County area have meeting space available. The Hilton Garden Inn in Edinburgh, for example, not only has conference rooms to rent, it features a very inviting small restaurant/bar that is perfect for talking shop and having a bite to eat, a cup of coffee or a well-deserved cocktail.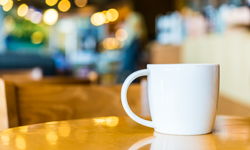 Check Out These Online Resources at the Johnson County Public Library
AtoZdatabases
Find a job, business, person or create mailing lists & sales leads. AtoZdatabases is an essential tool for your marketing campaign, helping you reach new movers and homeowners, as well as consumers by location, income, home value and interest.
Access
Business Source Complete
Contains full text from the world's top business journals and is particularly strong in both management and marketing. Provided by INSPIRE.
Access
EBSCO Management Collection
Provides access to news and articles on topics in business, banking, law, finance, management, advertising, human resources and more. Provided by INSPIRE.
Access
International Directory of Company Histories
Provides histories of companies that are a leading influence in a particular industry or geographic location.
Access
Regional Business News
Provides comprehensive full text for regional U.S. business publications covering business, politics, and economics. Provided by INSPIRE.
Access
Small Business Reference Center
This database offers exclusive full text for many top consumer small business reference books, as well as the necessary tools and instructions to address a wide-range of small business topics. In addition, it provides business videos, a help and advice section, and information on how to create business plans. Provided by INSPIRE.
Access
Value Line
This is your gateway to a powerful investment resource. Value Line provides access to a vault of investment research, approximately 3,500 stocks, data, expert analysis, and unbiased commentary with a time-tested and performance-proven Ranking System. It includes the The Value Line Investment Survey®— Small & Mid-Cap. Please be aware that there is a limit of four (4) simultaneous users.
Access
The Johnson County Public Library branches. (No surprise here since we are writing this!) Don't be dissuaded by the quiet stereotypical culture of the libraries. Each of the JCPL branches has community rooms and other areas that are appropriate for business meetings. The rooms are available for a nominal fee, and projectors, screens, and other AV equipment are on site for your presentation needs. You can sign up for the conference room up to 90 days in advance by clicking here. Or if you are having a one-on-one conversation with a client, just ask the front desk staff where you can sit and talk.
There are many other places in Johnson County to meet clients. Wherever you go, remember that the experience is as important as the content of your meeting. Choose a location that makes the client comfortable and relaxed, and gives you the ability to conduct business, no matter how large or small, with a positive image.
Jeff Owen, President of J Owen Media, is a Johnson County entrepreneur who works from his basement. Besides those mentioned here, he wants to know where you like meeting clients to discuss important business in Johnson County. Click here to send him an email.
Bright Ideas for Business is an information sharing program of the following community partners:
Johnson County Development Corporation

Visit the Bright Ideas for Business section on PageAfterPage.org.