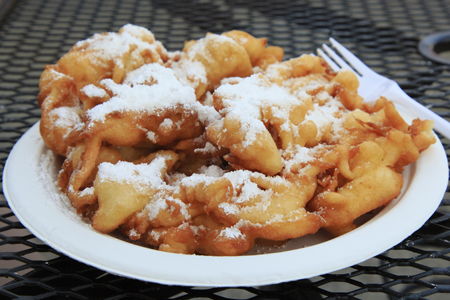 July is here! That means patriotic celebrations, hot humid weather and loads of tempting food at events like the Johnson County 4-H Fair! I love going to the fair. JCPL always has a booth in the commercial building and staff members are given the opportunity to work at the booth.
I purposely choose shifts right before dinner so that I can "graze" the fair after work. Now, I imagine you're thinking, "What?! How can someone who wants to eat healthy find anything worthwhile at the fair?" Well, I'll admit, it's hard, but with a little bit of purposeful planning, you can enjoy a day at the fair. Here are a few tips:
Don't arrive hungry. This is a very important one! How often have I gone grocery shopping on an empty stomach and ended up with a cart full of items not on my shopping list? The same holds true for going to the fair where tempting treats are around every corner.
Drink plenty of water. Not only is water calorie-free, it will help fill you up and keep you hydrated. Both are very important, especially since fair week will undoubtedly be the hottest, steamiest week of the summer!
Plan your attack. Take some time to peruse all the food options before you start eating. Choose the foods you most want to eat and limit to just a few of those options.
Share with a friend. Portions of most items are enough to split with another person or two. This gives you the chance to enjoy your favorite food while not ingesting the full amount of calories. Plus you save on cost!
Sit when you eat. Part of the problem with dining at the fair is mindless eating. When you walk and eat it is easy for that kabob, corn dog and beaver tail to disappear without realizing it. This easily becomes the constant "grazing" that I joke about, but try to avoid. Instead, find a bench or one of the many dining areas and rest while you have your treat or meal.
Make wise choices. There may not be a lot of full-fledged healthy options at the fair, but some choices are better than others. Look for grilled foods like chicken and leaner cuts of meat, sandwich wraps, kebabs, sweet corn (light on the butter) and sweet treats like fresh fruit, frozen yogurt, bananas and small portions of ice cream. As for the famous Lemon Shake-ups, look for vendors that provide sugar-free versions. Go ahead and treat yourself to something decadent, just adjust the rest of your menu accordingly.
Summer is a special time for food lovers. Use the above tips to guiltlessly enjoy events such as the Johnson County 4-H fair (July 17-23) and the many other celebrations in our community. Let me know what other tips you have. Don't forget to visit our many farmer's markets and enjoy the bountiful harvest this wonderful season brings.
Bon Appétit!
---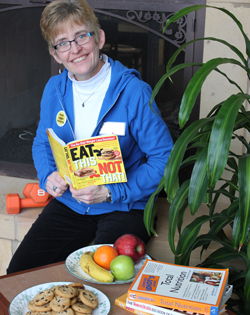 Linda is the White River Branch Manager and leader of our staff wellness team. Staying healthy and keeping fit are keen interests of Linda. Her goal is to enable others to live a healthy lifestyle through good nutrition, physical fitness and a positive outlook, although (shhhhh) she does confess a weakness for potato chips and Cheetos! Join the conversation at linda@jcplin.org.
Sign Up to Receive 'Now You Know'