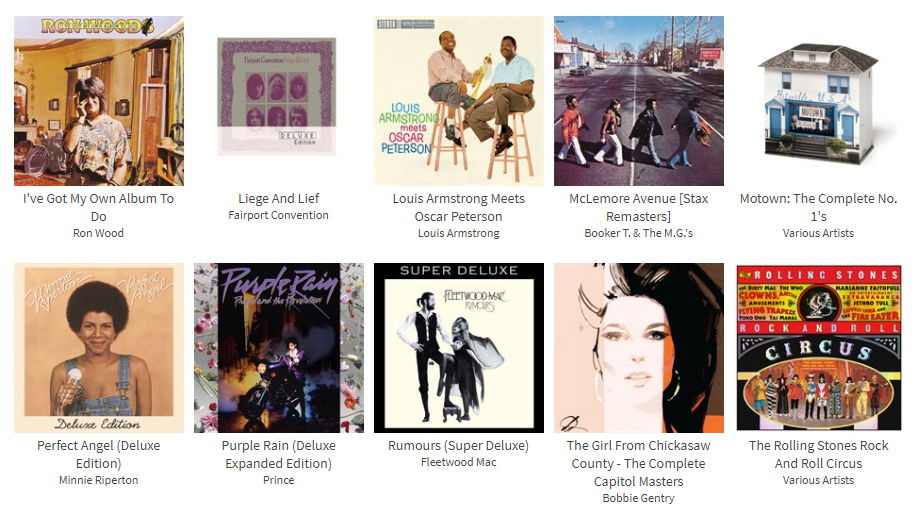 The 10 Best Albums on Hoopla You've Never Heard
Check out the collection on Hoopla
1. Louis Armstrong Meets Oscar Peterson -- This 1957 album showcases Louis Armstrong's underappreciated skill as a singer on a variety of jazz standards, accompanied by the renowned pianist Oscar Peterson
2. Motown: The Complete No. 1s -- A mammoth set that gathers every #1 record ever released by the iconic Detroit record label – 208 songs and nearly 13 hours of music. You'll enjoy old favorites and lost classics by Smokey Robinson, Marvin Gaye, The Supremes, Stevie Wonder, and many more.
3. Bobbie Gentry / The Girl From Chickasaw County -- A collection of all six albums from the underrated country singer-songwriter from Mississippi, best known for her 1967 #1 hit "Ode to Billie Joe." It includes a duets album with Glenn Campbell and a compilation of live recordings from the BBC.
4. Rolling Stones Rock & Roll Circus -- This is the soundtrack to a TV special that was recorded in 1968, featuring performances by the Stones, the Who, Jethro Tull, and a one-time supergroup that included John Lennon & Yoko Ono, Eric Clapton and Keith Richards.
5. Fairport Convention / Liege & Lief -- The fourth album from the much-loved British folk rock band, this album was a big influence on Led Zeppelin, who asked Fairport singer Sandy Denny to contribute vocals to their song "The Battle of Evermore."
6. Booker T & The MGs / McLemore Avenue -- The legendary house band for Memphis' Stax Records recorded this all-instrumental tribute to the Beatles several years after the Fab Four almost came to Stax to record their 1966 album "Revolver."
7. Minnie Riperton / Perfect Angel -- Minnie Riperton was living in Florida in semi-retirement when a record label intern convinced her to come to Los Angeles to record this 1974 classic, produced by Stevie Wonder and featuring the hit single "Lovin' You," which showcases her famous five-octave range (and was originally written for her young daughter, the future actress Maya Rudolph).
8. Ron Wood / I've Got My Own Album To Do -- A year before he joined the Rolling Stones, this famously affable guitarist recorded his fun first solo album with famous pals like Mick Jagger, Keith Richards, George Harrison, Rod Stewart and David Bowie. One of the most purely fun rock and roll albums of the '70s.
9. Fleetwood Mac / Rumours (Super Deluxe) -- You've heard this album before, but you probably haven't heard the hours of demos, outtakes and rough mixes included on this expanded reissue, which provide a behind-the-scenes look at how one of the best-selling records of all time was created.
10. Prince / 1999 (Deluxe Expanded Edition) -- In the 80s, Prince was recording classic songs faster than he could put them out, and this reissue of his biggest selling album collects many previously unreleased gems from his famous "Vault." Some of the songs that didn't make the cut are better than some artist's best songs.