Room Reservations Resume on a Limited Basis
As of 11/3/21


Community Rooms at all Branches, Study Rooms at the White River Branch and Trafalgar Branch, and the Conference Room at the Library Services Center, are now available. Requests may be submitted up to 30 days in advance.
You must reserve the community/conference room in advance either in person or by calling one of our locations--online reservations are not available at this time. The White River and Trafalgar branch small study rooms are available for use on a first-come, first-serve basis.

In compliance with recommendations to safely provide services during COVID-19, the following guidelines are in place:
The CDC recommends that all people wear a mask indoors in high transmission areas. Per CDC guidelines, and for the safety of all visitors, non-vaccinated patrons should wear masks in the library or while attending any in-person program. We respectfully ask for your cooperation

Reschedule your meeting if you are sick or showing symptoms of COVID-19
The Library will provide cleaning supplies. Meeting organizers are responsible for disinfecting surfaces before and after use
Reservations must be made in advance
Community Room reservations are limited to no more than two times in a 30-day period. At this point, there is not a limit on study room use but that may be amended if demand is high
Meeting organizers are responsible for following safety guidelines as recommended by the CDC to help reduce the transmission of COVID-19. Organizers should keep track of attendees in case contact tracing is necessary in the future.

*Reservations are subject to change based on JCPL's phased reopening guidelines.*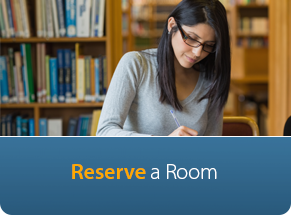 Room Reservation Quick Links:
Fee Schedule for Business Use and Special Events

Note: Special events require rental of the full Community Room.

Frequently Asked Questions about Reserving a Room at JCPL
What meeting spaces are available at the library?
All Johnson County Public Library branches have Community Rooms available for use by library patrons. The White River and Trafalgar branches also have small study rooms available for use on a first-come, first-serve basis.
Who can use the rooms at the library?
Any adult with a valid Johnson County Public library card in good standing, including reciprocal borrowers, may reserve a Community Room. If you do not have a card and live within the JCPL district, you may apply for a card with ID and proof of address before reserving a room.
When are the rooms available?
Rooms are available during normal library hours. Community Room requests must be submitted at least 72 hours in advance. Community Room requests may be submitted up to 30 days in advance.
How often can I use the rooms?
Any cardholder may reserve the Community Rooms twice in one month. After the reservation limit has been met, rooms are available on a walk-in basis, subject to availability.
Is there a charge to use the Community Room?
Use of the Community Rooms for non-profit and other community groups is free of charge, subject to certain conditions. In order to qualify for free use of the room, your group's meeting must be open to the public, and there must be no charge for admission, or items or services for sale during your use of the room.

Local businesses, or groups wishing to use the room for a private meeting or for events involving monetary transactions, will need to pay to use the room. Any event or meeting of for-profit groups or businesses is considered Business Use and subject to fees. Reservations must be made by a JCPL cardholder.
Payment will be due at the time of your event. Fees may be paid by cash, check or credit card.
Study rooms are available on a first-come, first-serve basis. Use of the study rooms is free for private or small group study sessions.
How do I reserve a Community Room?
If you meet the conditions specified above, you may submit your room request online, by phone or in person. Online requests will be approved by the Branch Manager as soon as possible.
Can I have a birthday party or other special event at the library?
Birthday parties, baby and bridal showers, and other special events may be held in the Community Room. These events are also subject to the fee schedule. Special events require rental of the full Community Room.
Can I serve refreshments at my Community Room event?
Yes! Light refreshments and drinks are allowed in the Community Room, though the rooms are not equipped for food service. Covered drinks are allowed in the library and the study Rooms. A small kitchenette is adjacent to our Community Rooms.
Will the library set up the room for me?
Set-up is the responsibility of the person or organization reserving the room. When making your reservation, please allow time prior to your event start time to set the room up to your specifications. You may make use of any tables and chairs in the room.
Can the library provide AV equipment for my event?
The library has a projector, DVD player, laptop computer and screen available for use. Please request equipment at the time of reservation. Library staff will assist with setup, and attempts to keep all equipment in good working order, but please be prepared for unexpected equipment failure. The library cannot guarantee equipment will function as expected.
Will the library promote my event?
The library cannot promote or publicize use of the rooms by outside groups for non-library programming. An appropriately sized flier promoting your event may be hung on the library's Community Bulletin Board, subject to approval by the Branch Manager.