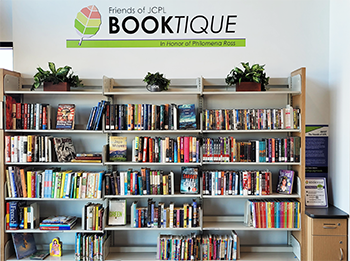 Friends of JCPL Booktique
The Friends of JCPL honor Philomena Ross, a founding member of the Friends, with the Booktique located at the Clark Pleasant Library Branch. The Booktique is an ongoing book sale to provide discounted literacy materials to the public.
All books and materials are for sale for $2. Cash, checks and credit/debit cards are accepted.


Friends of JCPL
The Friends of Johnson County Public Library was formed in 1979 to provide extra resources for programs and materials for the Library, and to focus the community's attention on their most valuable asset—their Library. Since then, the Friends have supported literacy and lifelong learning opportunities available to the community from the Library. In 2016, the Friends became part of the Johnson County Public Library Foundation to expand its support for JCPL. Learn more about the Friends of JCPL and the JCPL Foundation.