Are you working on your family genealogy? Are you interested in Indiana's Bicentennial? Ever wonder about the old buildings around town?
Pam Caito, Marketing and Communications Assistant, provides helpful information for you in her Local History blog. Click on the topic below to read her ideas and advice.
---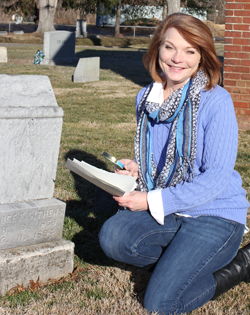 Pam Caito
Pam is the assistant to both the Historical Room and Marketing and Communications Department. She believes history connects the past and the present to give us a feeling of being at home. There are places and activities right here in Johnson County that help us to step back in time for relaxed, off the grid adventures.
Contributor: David Allen
Local History Recommended Library Resources
Ancestry Library Edition (only available inside the library) - Discover your family history by searching census records from 1790 to 1940, birth, marriage and death records from around the world, voter registrations, military records, immigration paperwork and much more.
Accessible only at Johnson County Public Library branches.
HeritageQuest Online - All U.S. census records from 1790-1930, more than 25,000 local histories and family genealogies, the Genealogical Periodical Source Index (PERSI) and Revolutionary War Pension.

Historic Indiana Newspapers - Scanned copies of historic Indiana newspapers, browsable by date and searchable by keyword, brought to you by the Indiana State Library and Newspapers.com.
Johnson County Historical Resources Available Online
These historical publications have been scanned and made available by the HathiTrust Digital Library. Click the titles to access a full-text edition.
A historical sketch of Johnson County, Indiana / by D. D. Banta (1881)

Making a Neighborhood: Delivered at the Shiloh Reunion, May 26, 1887 / by D.D. Banta (1887)

History of Johnson County, Indiana / by Elba L. Branigin (1913)

The people's guide, a business, political and religious directory of Johnson Co., Ind. together with a collection of very important documents and statistics connected with our moral, political and scientific history; also, a historical sketch of Johnson County and a brief history of each township / by Cline & McHaffie (1874)

The First Presbyterian Church of Franklin, Indiana: One Hundred and Twenty Years, 1824-1944 / by Herriott C. Palmer (1946)

NEW: Become an Ancestry Search Expert with this free video course from Ancestry Academy. Topics covered include census searching, birth, marriage and death records and immigration & military documents. Requires a free Ancestry Academy account.