Past Events
Thanks to all our sponsors, volunteers, and partners who made this year's Project Prom a success!
Click here
to see pictures of prom-goers who found the perfect dress at our Franklin and Trafalgar branches this Spring.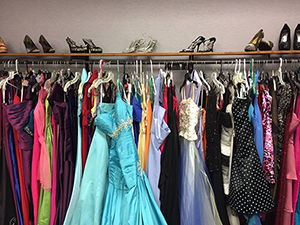 collects gently used Prom and Bridesmaid dresses, Tuxedos, shoes and accessories and gives them to girls and guys who are in need of formal wear.

How to Donate:
Donations are accepted year round at any of the JCPL branches.
For more information, please visit the
Project Prom Johnson County Facebook page or contact
our Project Prom team members at projectprom@jcplin.org
Meet Kelly and Learn How Project Prom started

Kelly Staten -- Franklin Branch
(317) 738-2833

Erin Cataldi -- Clark Pleasant Branch
(317) 535-6206

Lori Roberts -- Trafalgar Branch
(317) 878-9560

Amy Hamilton -- White River Branch
(317) 885-1330