My First Library Card
Libraries are for everyone—even little readers! Introduce your children to the wonders of the Library with My First Library Card.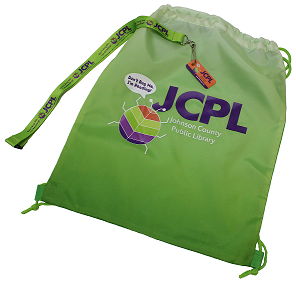 Children in 5th grade or under are welcome to sign up for a special, kid-friendly Library card that is their very own. When they use their Library card, they will develop independence and responsibility as they explore the children's section and check out items with their own card.
It's an exciting day when kids get their first Library card, so to help them celebrate, we will give them a JCPL drawstring backpack which will be handy to carry their books, movies and other items home. They'll also receive a lanyard to show off their new card (and it will help them keep track of it, too!). Stop by your local branch to fill out a My First Library Card application or you can also apply for a card online here -- be sure to pick up your child's new JCPL swag!
My First Library Card works the same as a regular Library card. Kids will have access to check out books and media from the Library as well as e-audiobooks, e-books, music, TV shows and movies from our digital resources.
Digital Resources for Kids
Kanopy Kids
Watch unlimited educational and entertaining movies, TV shows, animated storybooks, live-action shows and other animated favorites with Kanopy Kids for children ages 2-8 for free with a Library card.
Tumblebooks
These animated books for kids in kindergarten to sixth grade are not only fun to watch and read, but they also help young readers develop literacy skills and a love for reading. Tumblebooks offers books in different languages, too!
ABCmouse
ABCmouse.com offers the most comprehensive online curriculum for children ages 2 – 8+ (Preschool to 2nd Grade), including reading and language arts, math, beginning science, social studies, art and music. It can stimulate a child's enthusiasm for learning through over 6,000 interactive learning activities—including books, educational games, puzzles, art activities, songs, music videos and more.
Reading Programs & Library Fun for Kids
1,000 Books Before Kindergarten
This program, designed for children ages 0-5, encourages families and caregivers to read 1,000 books to their children before kindergarten.
Experience Passes
Use your Library card to check out admission passes to visit local museums, pools and educational centers.
JCPL Kids-on-the-Go Book Bundles
Let your librarians help you find the perfect books for your child based on age, reading level and interests. Caregivers can complete an easy online form for their child, and then librarians will bundle select books and have them ready for you to pick up when you visit the Library again.
JCPL Kids-on-the-Go Quick Picks
When you are in a hurry, ask your children's librarian for a Quick Pick Kit. Each pre-made kit contains 3-5 books from various categories. Let your librarian know what your child is interested in, and they will find the perfect kit. You'll be in and out of the Library in a flash!
Library of Things
The Library has more than just books; we have a Library of Things! Have you ever wanted to play the ukulele or stargaze with a telescope? From board games and video games to science kits and instruments, explore the Library of Things section at your branch for fun items you can borrow with your Library card and try at home!