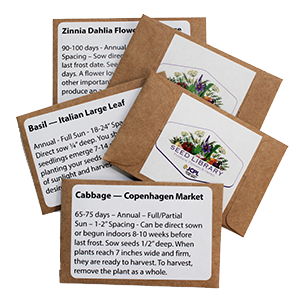 JCPL Seed Library
Try your hand at gardening with the JCPL Seed Library in the Library of Things. Patrons can choose from more than 40 different types of seeds—from produce to flowers—to plant at your house.
The seed library is simple to use. It is self-serve, no checkout or library card required. Just stop by a branch and pick out your seeds. What kind of seeds do we have? See below!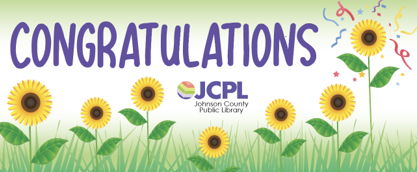 Congratulations to our 2023 Sunflower Contest winner, Cathy Wells, with a sunflower height of 14 ft and 3 in.!
In 2nd place, we have Rachel Williams with a height of 12 ft and 6 in. In 3rd place, we have Jen Stauffer with a height of 12 ft.
Thank you to everyone who entered our Sunflower Contest! We loved seeing all of your photos.
Seed Library FAQ
Q: Why don't you have [name of seed variety]?
A: Our supplier may not have had that variety at the time we were ordering or it may be hard to purchase that variety in large quantities.
Q: I have a bunch of seeds at home. Can I donate them to you?
A: Unfortunately, we cannot accept donations to add to the Seed Library. Our permit with the Indiana State Seed Lab tells us we must purchase seed ourselves to distribute to patrons. This is to ensure that what we are not distributing patented or non-viable seeds to patrons. This policy includes packets of seeds that are still sealed.
Q: What does the phrase "A Germination and Purity Test has not been completed" on all the boxes mean?
A: That statement means that the packets you take from the seed library do not have germination or seed purity information listed on the individual packet. All seeds JCPL purchased do have a high germination rate and do not contain any noxious weed seeds in any variety. This is in compliance with the Indiana State Seed Lab's requirements to distribute seed.
Q: Can I eat the seeds I get today or use them in cooking?
A: No! Seeds from the Seed Library are not acceptable for human consumption and should not be eaten. Shaf, debris, and dirt from the seed cleaning process may still be left over and mixed in with your seed. Since seeds are not food grade they should not be consumed and may even make you sick. However, if someone grows, for example, cilantro or sunflowers it is safe to harvest the seeds from plants they grow themselves. Seeds from the Seed Library are not listed for human consumption.
Q: Are all the seeds Non-GMO?
A: Yes.
Q: How do I grow this type of seed?
A: Basic directions are listed on each seed packet for the variety. Please check with a reference staff member to find additional instructions or provide access to some gardening resources.
Q: How long will the seed library be here?
A: The seed library will go into storage around our first frost date in the beginning of October. Once frost has set in it can be difficult or even impossible to start many varieties and any frost hardy plants should already be established before then.
New Varieties!
German Chamomile
Oregano
Sage
Native Wildflower Mix-Indiana Blend
Rudbeckia- Indian Summer
Mammoth Grey Stripe Sunflower
Boston Pickling Cucumber
Black Tuscan Kale
Celebrity Plus Tomato
Herbs
Basil - Italian Large Leaf
Catnip
Chives
Cilantro - Slow Bolt
Dill - Mammoth - Long Island
Parsley - Dark Green Italian Flat

Flowers
Calendula - Pacific Beauty
Cosmos - Sensation Mix
Shasta Daisy
Echinacea - Purple Coneflower
Marigolds - Crackerjack Mix
Sunflower - Autumn Beauty
Sunflower - Sun Spot
Zinnia - Dahlia Flowered Mix
Vegetables
Arugula - Slow Bolt
Beans - Blue Lake
Beets - Bull's Blood
Broccoli - Waltham 29
Cabbage - Copenhagen Market
Carrots - Danvers 126
Celery - Utah 52-70 Tall
Cucumber - Straight Eight
Eggplant - Long Purple
Lettuce - Black Seeded Simpson
Lettuce - Little Gem
Peas - Green Arrow
Peppers - California Wonder Bell
Pumpkin - Sugar Pie Pumpkin
Radish - Cherry Belle
Spinach - Giant Nobel
Summer Squash - Zucchini - Black Beauty
Tomato - San Marzano
Tomato Large Red Cherry
Watermelon-Crimson Sweet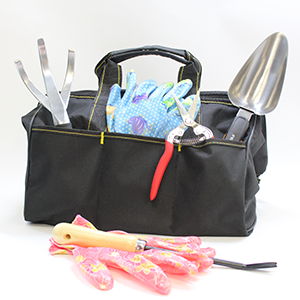 Gardening Tool Bag
Find everything you'll need to prep and maintain your garden plot with the
Gardening Tool Bag
. Each bag contains a hand shovel, hand cultivator, weeder tool, clippers and two pairs of gloves.