NEW: RBdigital magazines will be transferred to the Libby app on January 28.
JCPL will be moving our digital magazines from RBdigital to the Libby app on Thursday, January 28. You will continue to be able to browse, borrow, and enjoy all the same great magazines from ZINIO you loved in the RBdigital app, now available in Libby from OverDrive. The transfer process may take a few hours and once complete, it could take up to 24 hours for all titles to fully populate.
RBdigital audiobooks are now available in the Libby app through Overdrive

OverDrive has acquired Recorded Books/RBdigital, so the JCPL RBdigital audiobook collection have been migrated to OverDrive. You will continue to be able to browse, borrow, and enjoy all the same great audiobooks you loved in the RBdigital app using the Libby app.
HOW TO INSTALL AND USE THE LIBBY APP
1. Click the
"Get Started with Libby"
link from the RBdigital app to Download the mobile Libby app for
iOS
or
Android
or read online at
libbyapp.com
.
2. Enter "
Johnson County Public Library
" in the "I'll Search for a Library" field.
3. Tap on "Enter Library Account Details" and enter your
library barcode
. Tap Next.
4. In the upper right corner, you can set and
Manage Your Notifications
(for loan periods and holds)
5. You're now ready to
Explore
(Browse) or Search for Audiobooks.
6. Audiobooks can be checked out for 21 days and will return automatically. Titles can be returned early, so you can borrow as many as you'd like!
7. Borrowed titles appear under
Shelf > Loans
and download to the app automatically when you're connected to Wi-Fi, so you can read them when you're offline.
*If you have a device that's not compatible with Libby, you can use the OverDrive app to borrow and enjoy digital titles instead.*

HOW TO USE THE OVERDRIVE APP
When searching our online catalog or mobile app, the Overdrive audiobooks will display as "Overdrive Listen" and "MP3" formats.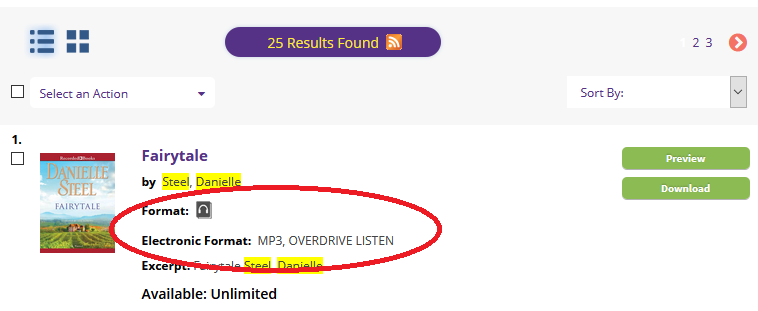 Download and start listening right from the browser using the Overdrive Listen option (only choose the MP3 format if you are using an MP3 player.)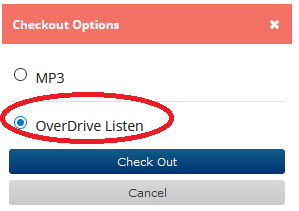 If you already have the Libby mobile app installed, you can listen to your borrowed titles from there as well.
Need assistance?
Access the JCPL Overdrive collection
Access to RBdigital Magazines, ArtistWorks and Transparent Language will still be accessible through the RBdigital app during the transition. Please check this page and our social media outlets for more updates. You may export your Transaction History from the RBdigital website by accessing My Account > Profiles at https://johnsoncoin.rbdigital.com/profile
If you have questions or need assistance, please contact the
Virtual Services Manager.
How to use the Libby App Video Tutorial