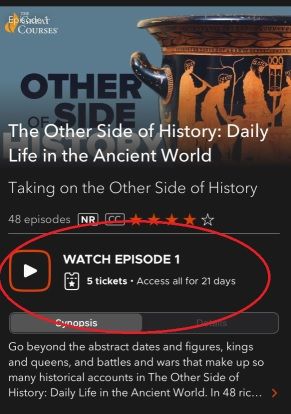 NEW!
The viewing experience on Kanopy is easier than ever with the switch from play credits to tickets. With this update, you can easily see the number of tickets required and viewing period for each film next to the play button.
JCPL patrons now receive 30 tickets instead of 10 credits each month.
LEARN MORE

Different types of viewing
Most films will require 2 to 4 tickets.
Series: The viewing period and tickets required for a series will be based on total running time.
The Great Courses: The majority of The Great Courses will require five tickets per course, with a viewing period of up to 21 days.
Videos with a runtime of under 30 minutes will only use one ticket.

Kanopy Kids will continue to be its own section on Kanopy and will not require any tickets.
Ticket-free content will be labeled as zero tickets.

JCPL brings you Kanopy
Thoughtful entertainment streaming now for free with your library card. Kanopy is a streaming, on-demand video service offering over 30,000 carefully selected films from the Criterion Collection, Great Courses, PBS and thousands of independent filmmakers.
How it Works:
You receive 30 tickets to watch films per month
You have 3 days to watch each film--certain studio films (Warner Brothers) can be viewed for 2 days (48 hours)
Create playlists and share links with others
Kids mode available
Tickets will reset on the first of each month
Stream from any device via browser or mobile app
How To Create an Account

Step 1. Visit jcplin.kanopy.com or download the Kanopy app to Sign Up
Step 2. Click Add a Library Card.
Step 3. Enter your library card number.
Step 4. Create an account by filling in the required information.
Step 5. A verification email will be sent to you. Click on the link in the verification email.
Step 6. Log in using the account information you created in step 4.

Kanopy Kids
Kanopy Kids
has a diverse selection of educational and entertaining content that range across Movies, TV Series, Animated Storybooks, Live Action, and Animated favorites for children ages 2-8.

Watch unlimited kids titles for 30 days!
Set up parental controls for age-appropriate content
Sign into or create a Kanopy account and select "Go to Kanopy Kids" to get started!

Need technical assistance? Kanopy Help