Hoopla @ JCPL
Download Movies, Music, Television, Audiobooks, E-books & Comics

Access over 1,000,000 movies, television shows, music albums, audiobooks, e-books and comics, all available for mobile and online access through a partnership with hoopla digital – all you need is a valid library card!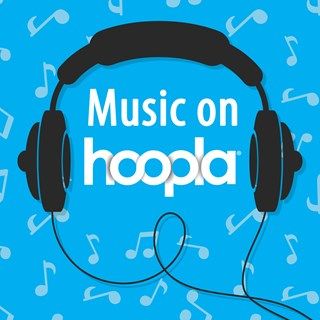 Hoopla Music
With thousands of music titles available for streaming and download, hoopla's got something for everyone. Lullabies and sing-a-longs for little listeners, trending tunes for teens, and hit music adults love - 24/7, without fees, commercials, or waiting. The hoopla app also allows you to shuffle or repeat songs, creating a more personalized listening experience. STart Browsing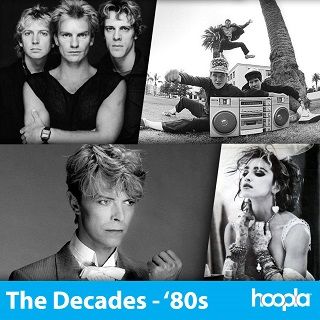 Hoopla BingePass
hoopla BingePass is a brand new experience that gives you unlimited streaming of great online content for 7 days with just a single hoopla Instant borrow! Just update your hoopla app and tap the "More" in the bottom navigation to view hoopla BingePass.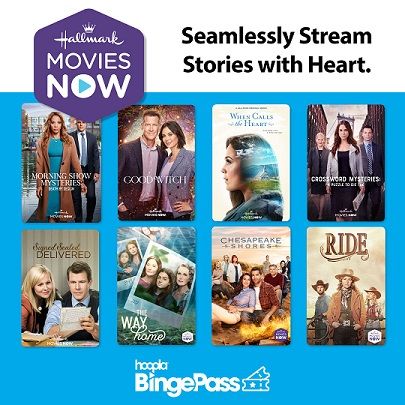 Hallmark Movies
The Hallmark Movies Now BingePass on hoopla gives you unlimited access to the entire Hallmark Movies Now on-demand library. Curl up with top-rated series like When Calls the Heart, Chesapeake Shores, The Way Home and more!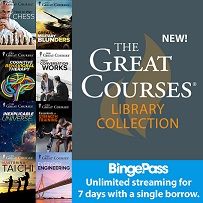 Great Courses

The new hoopla BingePass includes unlimited streaming of The Great Courses Library Collection. Watch as much of The Great Courses as you want for 7 days, using one borrow.Get started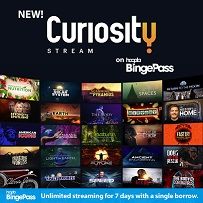 Curiosity Stream

You can now access the entire Curiosity Stream collection! Use just one hoopla borrow for 7 days of unlimited access to thousands of documentaries and nonfiction series.
Get Started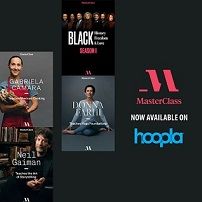 MasterClass
Check out a selection of classes from @MasterClass free with your library card. Learn from the world's best artists, chefs, and more. Borrow now on hoopla!
Malcolm Gladwell
Neil Gaiman
Angela Davis
...and more!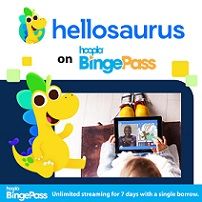 Hellosaurus
u can explore the entire award-winning Hellosaurus app through hoopla BingePass! One hoopla Instant borrow provides unlimited access to great kids' content for 7 days. You must download the Hellosaurus iOS or Android app to your mobile device to play this content. No signup needed.
hoopla is now available on Android Auto
Android Auto makes it easier than ever to listen to hoopla audiobooks and music from your car.
Listen to e-audiobooks on your Roku
Listen to any hoopla audiobook through your Roku – great for listening while moving about the house!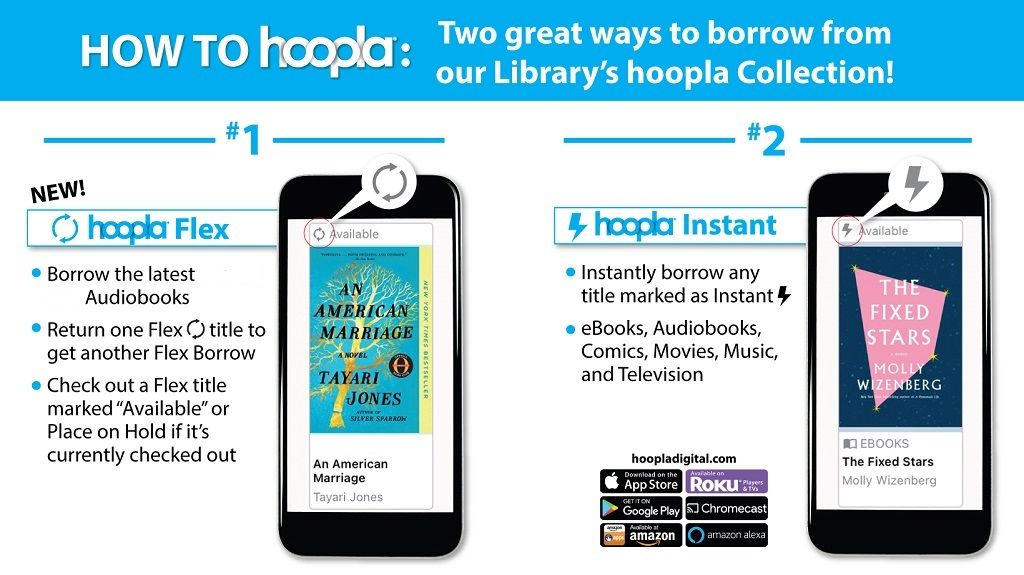 Welcome to hoopla Flex Borrows: Our digital collection just got better!
You now have even more to love about your Johnson County Public Library digital collection on hoopla.
In addition to the 8 hoopla Instant borrows you receive each month, you now will have 8 hoopla Flex borrows you can use on specially marked hoopla Flex Audiobooks.
8 Instant Borrows
8 Flex Borrows (AUDIOBOOKS ONLY)
Up to 10 holds
Renew up to 4 times (if no other patrons are waiting)
72 hour grace period to check out available holds
With hoopla Flex titles you will find new and popular audiobooks that you can borrow now or place on hold to read later. Unlike the Instant Borrows you receive each month, Flex Borrows don't have any monthly expirations. Each Flex title you Borrow is available for 21 days and if you run out of Flex Borrows, you can just return a checked-out Flex item and borrow another title.
Have other questions about how this expanded version of hoopla works? Watch the video below or access the Help section.
Learn about the New Digital eBook Experience
A better borrowing and reading eBook experience
Quick-changing landscape view
By popular demand we have added a new landscape view to make the eBook reading experience even easier on a larger screen.
Enhanced Search
Find just what you are looking for with our new Enhanced Search with added context.
Innovative Vertical Scrolling mode
Take a break from page-swiping! Readers can simply scroll through the pages in the book with their finger. We have also introduced speedier page scrolling - easily skim any book!
NEW! Highlights & Notes Features
Perfect for students and lifelong learners! This new feature should enhance online book clubs and homeschooling on hoopla.
Expanded formatting options
More text styling, fonts, page colors, and page formatting options than ever.
JCPL card holders can download the free hoopla digital mobile app on their Android or iOS device or visit hoopladigital.com to begin enjoying thousands of titles – from major Hollywood studios, record companies and publishers – available to borrow for instant streaming or temporary downloading to their smartphones, tablets and computers.
hoopla digital has a simple sign-up and attractive, easy-to-use interface, so it's easy to get to your listening and viewing experience. There's also no waiting to borrow popular movies, TV shows, albums, audiobooks, e-books, or comics. And hoopla digital's automatic return feature eliminates late fees.
To access the system on your mobile device, you will need to first download the FREE hoopla digital app from the App Store on your Android or iOS device. There is no need to download an app or extension for your internet browser.
Once you have downloaded the app to your device(s) and/or clicked on the hoopla digital link on our website, you will be prompted to enter your email address, a password, and your library card number. The system will validate that you are in good standing with the library, so that you may begin to browse, borrow, and enjoy the content.
Come see what all the hoopla's about:
Once you borrow a title on one device it is automatically available via all devices with the hoopla digital app and via your PC web browsers (IE 8+, Firefox 12+, Safari 5+, Chrome 19+).
When using hoopla you will be able to begin streaming the content immediately. You can also download content to mobile devices to view at a later date (in case you won't have Wi-Fi on that camping trip).
You will be allowed to borrow 8 instant titles each month and 8 flex audiobook borrows at a time.


Video lends for 72 hours
Music lends for 7 days
E-books, Comics, and Audiobooks lend for 21 days
You are able to access (view/listen to) borrowed content as often as you want during the checkout period and you can return any borrowed title whenever you want.

We hope you enjoy this new service and encourage you to share your experience on our Facebook and Twitter pages!
Need more help? Check out the support page, or chat live with a librarian for personalized assistance.