Why should a student take the ACT WorkKeys test?
Whether your plan is to pursue a trade, a four-year degree or go straight into the workforce, you need something that sets you apart from the crowd.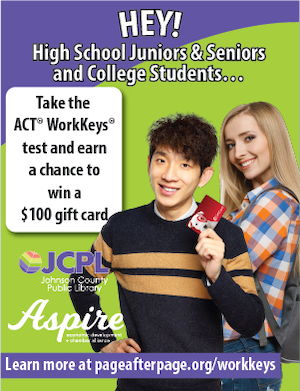 When you take the FREE WorkKeys test at JCPL as a high school junior/senior or as a college student, you're showing how your experiences and education so far make you a great candidate for employment now or in the future. Basically, it's a free certification that you can add to your resume.
Aspire Economic Development + Chamber Alliance and Indiana Workforce Development are hard at work to get employers to recognize the NCRC/National Career Readiness Certificate when hiring in Johnson County. So far, there are over 100 employers participating, with more to come. So, this is that THING that can set you apart from the crowd when employers make hiring decisions.
Oh, and there's also that whole gift card incentive. When you sign up and take the test at JCPL, your name will be entered for a monthly drawing for a $100 gift card to places like AMC Theatres, Spotify, the App Store, Starbucks and more! So, when you take the test early, your name stays in the hat each month to give you even more chances of winning!
Our JCPL staff can't wait to help you get started on the test.
Just bring your ID and we'll get you set up.

*Before accessing the WorkKeys® assessment, please create an Indiana Career Connect account.*
Register

All Johnson County Public Library branches are authorized ACT®WorkKeys® test locations. Please contact us for more information.