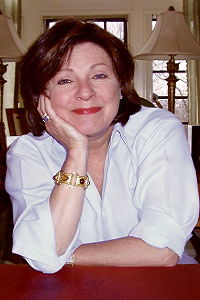 Dorothea Benton Frank is The New York Times best-selling author of 17 novels, including "Sullivan's Island," "The Land of Mango Sunsets," "The Last Original Wife," "All The Single Ladies" and "Same Beach Next Year." She was born and raised on Sullivan's Island, South Carolina. Now, she divides her time between the New York area and the Lowcountry. She is an avid cook, enjoys fly-fishing, reading and traveling. Read an interview with the author before her visit June 8.
Johnson County Public Library: You've previously mentioned that you "grew up in a Southern gothic novel." What does that mean—and how has it shaped your work?
Dorothea Benton Frank: My mother and her mother before her were unapologetic Camilles when it suited them and Steel Magnolias too. They loved us with all the ferocity of a couple of lionesses enjoying a good julep but they also knew the value of a swoon. You learn a lot from women like them.
JCPL: Who are your favorite writers?
DBF: I try to read all within my genre but I read everybody that I like. I love Pat Conroy, I love his wife, Cassandra King, Josephine Humphreys is a wonderful southern writer. But I also read some of the Yankee writers from North Carolina like Lee Smith, just kidding. Kaye Gibbons I love her work I think she's just brilliant. I read all kinds of authors.
JCPL: How important is a sense of place in your writing? What do you get from those research trips?
DBF: I think when I started writing it was all about place. I was writing because my heart was kind of screaming to go back to South Carolina. It was right after my mother passed away that I began to write. Usually that's how it is, there's some event in your life that you begin to write. What I didn't know was that I wouldn't be able to stop writing, I could probably use a little therapy for that but you know sometimes place is a character itself. A lot of people who write say that it's easier to write about a place when you don't live there because you long for it if you love it. I loved going to Sardinia. I did not go to Mexico City but I'm very familiar with what went on in Mexico City in this book (Full of Grace.)
JCPL: Do you take a break in between writing books?
DBF: There's no point in that. It's a funny thing. It's like a train station. You know the train is coming into your head, stays for a while, while you write that story and then it pulls out of the station and as its pulling out of the station there seems to be another one pulling in right behind it. So I find that it's best for me to keep writing.
JCPL: Back when you were writing Sullivan's Island, did you plan on doing a sequel at some point?
DBF: I think that a first novel is like a first child in many ways. The entire experience is one surprise after another. Somehow it's your sentimental favorite because you have brought something to life for the first time and you never get over it. So, 10 years and thousands of emails later, I have had so many people ask for a sequel it began to seem like a good idea.
JCPL: Is there a real house like the Island Gamble you drew on for the novels?
DBF: The Island Gamble is drawn on the house where I grew up which was actually called The Vagabond Villa. But for the sake of the story I moved it down the island and expanded it.