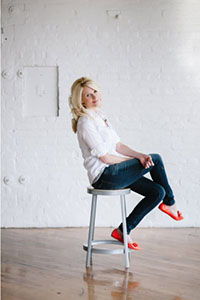 Kristy Cambron is the bestselling author of "The Ringmaster's Wife" and "The Illusionist's Apprentice." Her novels have been named to Library Journal Reviews' Best Books and RT Reviewers' Choice Awards Best lists for 2014 and 2015.
Read our interview with the author before her visit at the Clark Pleasant Branch June 15.
Johnson County Public Library: You document your research through fun videos. Can you tell us about your Research Files and why you chose that medium to document your research?
Kristy Cambron: I'm a visual and kinesthetic learner, so I process information better if I can experience research. It really starts in the library chair – reading through books, articles, interviews, and watching documentaries and videos. But I then want to take that information "on the road" – such as to the Ringlings' Ca' d'Zan mansion from "The Ringmaster's Wife" – and experience it much in the same way my characters would, by seeing, hearing, smelling, tasting and touching that world. I want to take the readers along with us whenever we can, so the concept of Research Files videos just evolved from there. I imagine we'll take readers along on our adventures with each book!
JCPL: What attracts you to write Historical Fiction?
KC: Even from childhood, I wanted to be a storyteller– specifically, a Disney animator. My mom would take me to the library every week and I'd sit on the floor in the aisles, reading animation books and art history volumes. I had one problem though– I wasn't gifted with hands that could draw. But by the time I went to college and walked into my first art history class, I knew I was home. I often joke that God knew better than I did, because He now has me paint with words instead. When I felt the call to become an author, I couldn't see writing about anything else than what my passions are: art, history and faith.
JCPL: What is your favorite part of creating/writing your books?
KC: I'm an art and history addict. I love the research part of each writing experience, and falling into the characters' worlds. Sometimes the experience is so real, it takes me a few days to remember I'm not living in France, 1944 (to take an example from my next book – "The Lost Castle," my new series coming in 2018). Examining a place in history and then breathing life into it through the characters' eyes really is an incredible journey that I long to relive with each book.
JCPL: If you weren't an author, what would you do for a living?
KC: I've actually lived that life outside of being an author! I spent 15 years in corporate America, in education and leadership development for a Fortune-100 company. While I enjoyed what I did, I was not content. Stories have always called me and in 2014, our family prayerfully walked away from the career I'd built in order for me to pursue that dream. Now, there's nothing else I could imagine doing. 😊
JCPL: What is your favorite book and why?
KC: Other than the Bible, the book that has most impacted me is "Night," by Elie Wiesel. The subject matter of the Holocaust is weighty, but it's the kind of book that changes you through the author's experience. And I want to be impacted every time I open a book. Whether I learn something, I'm purely entertained, or whether I have to ask tough questions about faith and life, I want to continually look deeper into my view of humanity. "Night" never fails to impact me in that way.
JCPL: Where do you get your inspiration and ideas for your books?
KC: In a word? Everywhere!
My debut novels were born out of undergraduate research I completed on the prisoner camp art of Auschwitz. While I'd always wanted to write stories set in the Jazz Age, my next books were born of research and an idea my publishing team actually brought me. Tying in entertainers such as John and Mable Ringling (of the Ringling Bros. circus fame), and Harry Houdini's vaudeville world (in "The Illusionist's Apprentice") really made that time in American history come alive. And the abandoned castles idea for my next series came from an article of a French fairy tale castle I found online. From books to articles, movies, or a trip to a museum… I'm always on the hunt for a niche that could become my next story!
JCPL: If you could travel through time and experience another era, what era would you choose and why?
KC: If I could have my eyes on one place in history, there's no question – it would be Jerusalem in the first century. I'd want to be front and center to experience the impact of Jesus' ministry, and see the early church come to life.