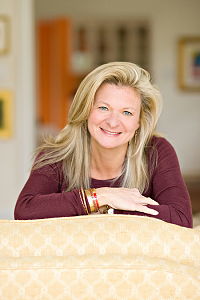 Lisa Scottoline is The New York Times best-selling author and Edgar award-winning author of 30 novels, including her latest novel, "After Anna" coming in April. Her novels are known for their emotionality and warm and down-to-earth characters which resonate with readers. She also writes a weekly column with her daughter Francesca for the Philadelphia Inquirer titled "Chick Wit" which is a witty and fun take on life from a woman's perspective. Lisa has served as President of Mystery Writers of America and has taught a course she developed, "Justice and Fiction" at The University of Pennsylvania Law School, her alma mater. She lives in the Philadelphia area with an array of disobedient pets, and she wouldn't have it any other way.
Read an interview with the author before her visit at Franklin College on April 12.

Johnson County Public Library: Where do you get the ideas for your books?
Lisa Scottoline: I get my ideas from the strangest things. The truth is any book I write is really from the heart. They are thrillers, but there's a huge emotional component. The idea has to come from some place inside me, some place it really connects. I remember I got the idea for "Dirty Blonde" when I was walking in my local mall. I heard someone use the expression "She's a dirty blonde," and I thought "I love that expression!" I hadn't heard it in a while and I wanted to write a book about a dirty blonde. It was a sensational book and I really think the germ of that idea really came from that snippet of an overheard word in a mall.

JCPL: Is it true that you wrote a book based on a guy you saw in a magazine?
LS: I was looking in a magazine, because I read all the time, and there's a drop-dead gorgeous male model. (I admit a little eye candy does interest me.) And I'm looking at this guy and he was so interesting looking. And I know it sounds creepy, but I thought I want to write a book where he is the love interest. Because, believe me, he would be a love interest. And he is actually exactly the love interest in "Daddy's Girl." I actually wrote a book partly about him and the attractive way he looked and the way he was unconventionally handsome and kind of furry and beary! I thought what kind of woman would be attracted to him and what sort of situation would she be in. All the ideas for my books come from something like that in my life.

JCPL: We've heard you do a ton of research for your books. What have you done to make sure your novels are as correct and as realistic as possible?
LS: Second hand experiences just aren't good enough. I want to see, feel, hear and experience the same things the characters will. That has lead me to taking boxing lessons, visiting a convent, driving up the front steps of the Art Museum in Philadelphia (the famous Rocky stairs) just to make sure it can be done, standing on the roof of my car in a parking garage to figure out a real-life escape route for a character, visiting a junkyard and participating in a weekly poker game. But my favorite research, by far, would have to be the shoe shopping expeditions for "Courting Trouble."

JCPL: What is your typical workday like?
LS: It's an interesting job because I do it here in my house. I write seven days a week. I write all day long and I write into the night. I know, I have no life! But, that is what writing requires. It's really hard work, good hard work. Jack London has a quote – "inspiration is something you go after with a club." You don't wait for the inspiration to strike like a lot of people think you do. Writing improves with practice. I write every day. I apply butt to chair. Don't get up. Don't run around. I have a job that doesn't benefit from interruption. I insist that I write 2,000 words a day. That means some days it can take from 8 o'clock in the morning til 10 o'clock at night. And some days I get it all done in the morning and I'm all proud of myself, but I don't get to stop. If I'm rockin' that hard, I'm going to stay with it!
JCPL: Could you describe your writing process for us?
LS: I don't write from an outline. Lots of people do, but I'm convinced that the world divides into people who are super organized and write without outlines – and God bless them, when I grow up I'm going to be one of them. But when I write, it's just an idea and I go tell the story. And the truth is, I'm figuring it out as you're figuring it out. I hope the writing has a real freshness to it because I don't know the end. I don't know the middle of the story. I make sure the first draft gets done. I'm not allowed to edit it at all in the first draft stage. When I finally finish it, then it's polishing time. That's how I do it.