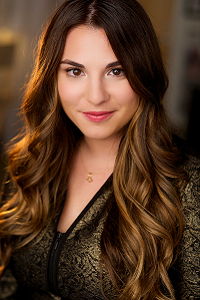 Victoria Aveyard is a young adult fiction author and screenwriter, born and raised in a small town in Western Massachusetts. Both her parents are public school teachers, as well as avid film, television, and literature fans. Victoria grew up on a steady diet of "The Lord of the Rings", "Star Wars", "Indiana Jones", "Harry Potter", and "LOST". She pursued a degree in Writing for Film & Television at the University of Southern California's School of Cinematic Arts. After graduating college in 2012, Victoria moved home from Los Angeles and began writing the manuscript that would become "Red Queen".

Johnson County Public Library: Can you tell us a little about your writing process?

Victoria Aveyard: I'm lucky enough to be able to write full time, and part of that entails treating my work like a job. Keeping regular work hours (Monday-Friday) helps me maintain a routine and keep the muscle in working order. It's also nice because come Sunday night, I'm excited to dig back in on Monday morning. And in the long run, it helps me put some blinders on. When things get overwhelming, I just sit down and work (sometimes not well), but I'm still able to put the words out.

JCPL: What sort of research do you do for your books?
VA: It depends on the particular story. I heavily utilize Wikipedia, but I also expand upon interests I already have as well, so it's nice to dig into something niche that's already stuck in my brain. For another distant project, I've been reading a lot of WWI nonfiction.

JCPL: Do you take a break in between writing books?

VA: Yes, absolutely. Usually touring means I have to take a break anyway, because I find it impossible to write on the road.
JCPL: What sets the Red Queen series apart from other YA series?
VA: Honestly, if I knew I wouldn't tell anyone and keep it my secret! I like to entertain, and hopefully that feeling of entertainment is what attracts readers.
JCPL: Now that the Red Queen series is wrapping up, can you tell us what you're working on next?

VA: There will be a book of "Red Queen"-world short stories and extra content released next year!

JCPL: What advice do you have for teens or those who are aspiring writers?
VA: Give yourself permission to write a bad first draft. It's easy to be paralyzed by chasing perfection, but trust me, it's much better to have something whole to fix, rather than one pristine first chapter and nothing else.

JCPL: In your bio, you mention growing up on a steady diet of Lord of the Rings, Star Wars, Indiana Jones, Harry Potter and LOST. What is your favorite fandom?

VA: Well besides the ones mentioned, I love the Marvel Cinematic Universe, as well as A Song of Ice and Fire/Game of Thrones. There's also Superstore, Brooklyn 99, Vikings, and I was a huge devotee to The Mindy Project. I don't know if this is considered a fandom, but I love the Real Housewives as well.

JCPL: Young Adult literature is full of such talented authors! Who are some of your favorite writers, YA or otherwise?

VA: I'm a total fangirl for Leigh Bardugo, Sabaa Tahir, and most recently, Holly Black. "The Cruel Prince" has been one of my favorite books of the year. Outside YA, I defer to George RR Martin.