At Home in Johnson County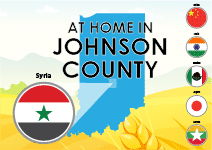 Posted by: Johnson County Public Library | Thursday, June 22, 2017

Celebrate a different culture each Saturday during the month of July. Learn about our neighbors from Syria, Burma, Japan, India, Mexico and China who call Johnson County home.
Every Saturday from June 24-July 22, join us at one of our locations to learn more about the culture and customs of another country.
We're celebrating our international neighbors this summer at your Johnson County libraries! Join us as we learn about a different culture each week through fabulous international foods, music, games and art.
As a part of our partnership with the placemaking team of Aspire Johnson County, we're spending each Saturday in July celebrating our neighbors who come to us from Syria, Myanmar, Japan, India, Mexico and China, and who now call our county home.
SYRIA
Saturday, June 24 at the Trafalgar Branch

Part 1: 10-11:45 a.m. - The Syrian Refugee Crisis in Context: The presentation will be divided into two small information sessions to provide the audience with an overall picture of this particular humanitarian crisis. Part one will cover the origins of the Syrian conflict as well as its toll on the Syrian people. Part two will discuss the perils of refugee camps as well as the vetting system for refugee admission into the United States.
Part 2: 2-4 p.m. - At Home in Johnson County: Learn more about the culture and people of Syria.
BURMA
Saturday, July 1 from 1-3 p.m. at the Clark Pleasant Branch
Celebrate the culture of Burma with lots of fun activities for the whole family! Food, fun, music, games and more. Don't miss the opportunity to learn more about one of the many cultures that can be found right here in Johnson County.
JAPAN
Saturday, July 8 from 1-3 p.m. at the Franklin Branch
Learn about the traditional culture of Japan from Minori Abel of the Japan-America Society of Indiana. Complete a fun origami or kirie paper craft.
INDIA
Saturday, July 15 from 1-3 p.m.at the White River Branch
Enjoy Bollywood music and dancing with The Bollywood Beats. Get a temporary henna tattoo courtesy Henna by Pam and experience a taste of India!
MEXICO
Saturday, July 22 from 1-4 p.m.at the Greenwood Public Library
Join us as we celebrate the culture of Mexico. Enjoy traditional foods, games, crafts, music and more while learning firsthand about this vibrant and rich culture found in Johnson County.
At Home in Johnson County is presented in collaboration with Aspire Johnson County and Greenwood Public Library.