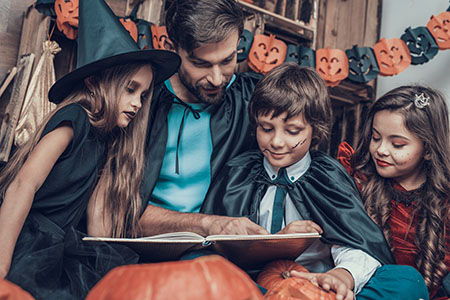 From costumes and candy to hayrides carving pumpkins, spooky season is here. This month, I'm writing a post to spread some Halloween Cheer! The library has lots of not-so-scary stories for you to share with your littles this season. Here are some of my recommendations:
Bone Soup by Cambria Evans
A spooky take on the story Stone Soup. See what they did there?
Pumply Dumply Pumpkin by Mary Serfozo
Very sweet, rhyming journey of picking out and craving a pumpkin.
Leo: A Ghost Story by Mac Barnett
A sweet story about a polite ghost searching for a place to fit in.
Monster, Monster by Melanie Walsh
A fun lift-the-flap guessing game with a monstrous ending.
The Monster at the End of this Book by Jon Stone
A classic. Perfect for a non-scary twist ending.
Pete the Cat: Five Little Pumpkins by James Dean
Pete the Cat's rendition of the classic "Five Little Pumpkins" rhyme.
The Scariest Book Ever by Bob Shea
A scaredy-cat ghost realizes he may not have all that much to be afraid of.
There's a Monster in Your Book by Tom Fletcher
Interactive, monster-filled fun. Sure to be a favorite (if it's not already).
There's nothing like sharing a good book on a cold, dark and windy fall night. I hope these books bring you and your ghosties the warm and fuzzies this Halloween.