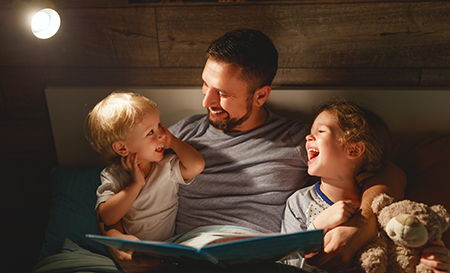 Cold, drizzly, frostbitten weather may take its toll, but nothing compares to bedtime stories in the winter under cozy covers. In honor of this prime snuggle weather, here are a few new books to add to your bedtime story mix. Best enjoyed warm and toasty.
"A Big Mooncake for Little Star" by Grace
Little Star and Mama make a Mooncake up in the night sky. Little Star thinks that if she takes a small nibble, Mama won't notice, right? Each night, Little Star eats a bit more, and the moon wanes. This lovely story sparks conversation about the phases of the moon, stars, family, baking and more.
"Cat Wishes" by Calista Brill
Follow in the pawprints of a cat who doesn't quite know what to do with a wish in this endearing picture book. The dreamlike illustrations and satisfying conclusion will carry you away to sleepytown.
"Crunch the Shy Dinosaur" by Greg Pizzoli
A great interactive book for those who'd prefer to put a dinosaur to bed before going to sleep themselves.
"Don't Blink" by Amy Krouse Rosenthal
This gem is made to be read right before bed. Wonderfully interactive, this picture book promises readers a game that, if won, guarantees no bedtime. It holds fun surprises on every page, then winds down to a calm, satisfying, sleepy finale.
"Kitten and the Night Watchman" by John Sullivan
Relaxing nighttime sounds and imagery, plus lovely pictures of town under the night sky, this book holds a sweet tale about finding an unexpected, fuzzy addition to the family.
"Life" by Cynthia Rylant
This beautiful book explores the bountiful life all-around our vast earth. Take a journey before bed to fill little one's dreams with wonder.
"Little Whale" by Jo Weaver
Enchanting illustrations tell the story of gray whale and baby whale traveling far to find their home and family across the ocean.
"Twinkle Twinkle Little Star, I Know Exactly What You Are" by Julia Kregenow, Ph.D.
For all your little astrophysicists, this rhyming picture book brings science to bedtime. Star facts and accurate names are packed into a familiar tune to squeeze some exploration of the universe between your cozy covers.
And remember: If you give those, or any other great books, a try, your librarians would love to hear about it. ☺