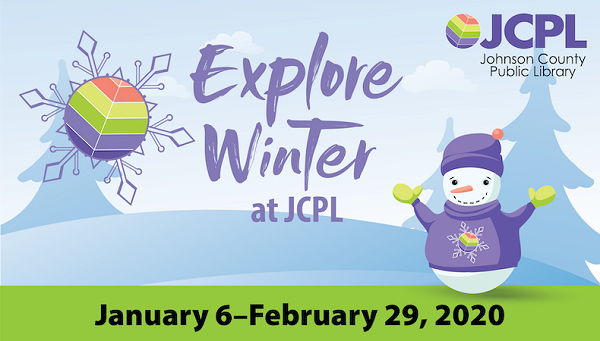 Complete activities to earn virtual badges and fun prizes!
How Do I Register?
Stop by a branch to register or sign up at jcpl.beanstack.org and you'll receive:

Coupon for one free book at the Friends of the Library Used Book Sale
Activity log to track progress
An "I Signed Up" sticker for your activity log

How Does It Work?
How do you Explore Winter? There's lots of different ways! Read a book, try a new recipe, attend library programs, visit a StoryWalk or watch a movie based on a book.
Complete activities to earn at least three (3) different badges and visit the library to pick up your prize.
What Prizes Can I Earn?
Choice of JCPL Coupon (good for $3 on fines, fees, printing or copying costs), Bouncy Ball, Mini Winter Puzzle or Snowflake Football.
When you complete an activity badge, you'll be entered to win that week's prize drawing. We encourage you to participate throughout the winter and not complete all the activities at once! That way, you'll have a chance to win a prize for each week that you earn a badge.
You'll also be entered to win the Grand Prize–a family membership to a local museum or zoo of your choice!
Log into your Beanstack account to continue tracking your activities online. (If you participated in Explore Summer or 1000 Books Before Kindergarten, you already have a Beanstack account.) Please contact your library branch if you've forgotten your username/password or are unable to log in.
More information on using Beanstack and the Beanstack Tracker mobile app can be found here.