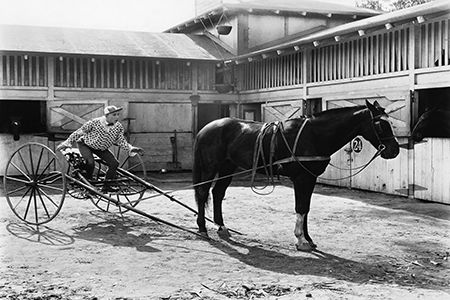 Here are a few interesting facts about the Johnson County Fair during the 1920s. At this time, the Southeastern Indiana Fair Circuit traveled through this part of state beginning in Osgood, then moved to Columbus, Franklin and Shelbyville. The Fair being an important part of rural life in Johnson County, focused on numerous displays of farm implements, horticulture and culinary dealers.
There were only a few midway rides and stands at this time, but there were other forms of entertainment like horse racing that included two-wheeled, one-horse carriages for one person (also known as sulkies.) The horses used in this kind of racing were called trotters or pacers.
It was also said that there was one carnival tent that held a wrestler and boxer who would fight the locals. To draw the crowds in, they would sometimes stage a fight outside to get people's attention.
Another Johnson County Fair event during this time was Luther Dennis's hot air balloon. Some sort of kerosene furnace was used to heat the air that filled the balloon. Mr. Dennis would then ascend very quickly, hanging onto a bar attached underneath the balloon and parachute to the ground once he was high enough.
To retrieve the balloon, Mr. Dennis attached four sand bags to the balloon, which would cause it to invert once he let go of the bar. The sudden loss of hot air from the inverting caused by the sand bags made the balloon fall to the ground much faster making retrieval easier.
During one performance, Mr. Dennis or someone who assisted him forgot to attach the sand bags. What happened after Mr. Dennis parachuted to the ground was the balloon drifted northeast finally landing in a wheat field south of the Cutsinger farm in Clark Township. It was said that once it lost enough air and hit treetop level, the shrinking balloon (black in color) became an imperceptible mass where local residents upon seeing it, could not figure out what it was as it sailed on by.
Information provided by: Magill, H. O. "The County Fair." Nostalgic News (Fall. 1984): 24. Print.
______________________________________________________________________________________________________________________________________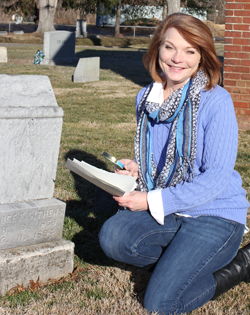 Pam Caito is the assistant to both the Historical Room and Marketing and Communications Department. She believes history connects the past and the present to give us a feeling of being at home. There are places and activities right here in Johnson County that help us to step back in time for relaxed, off the grid adventures.