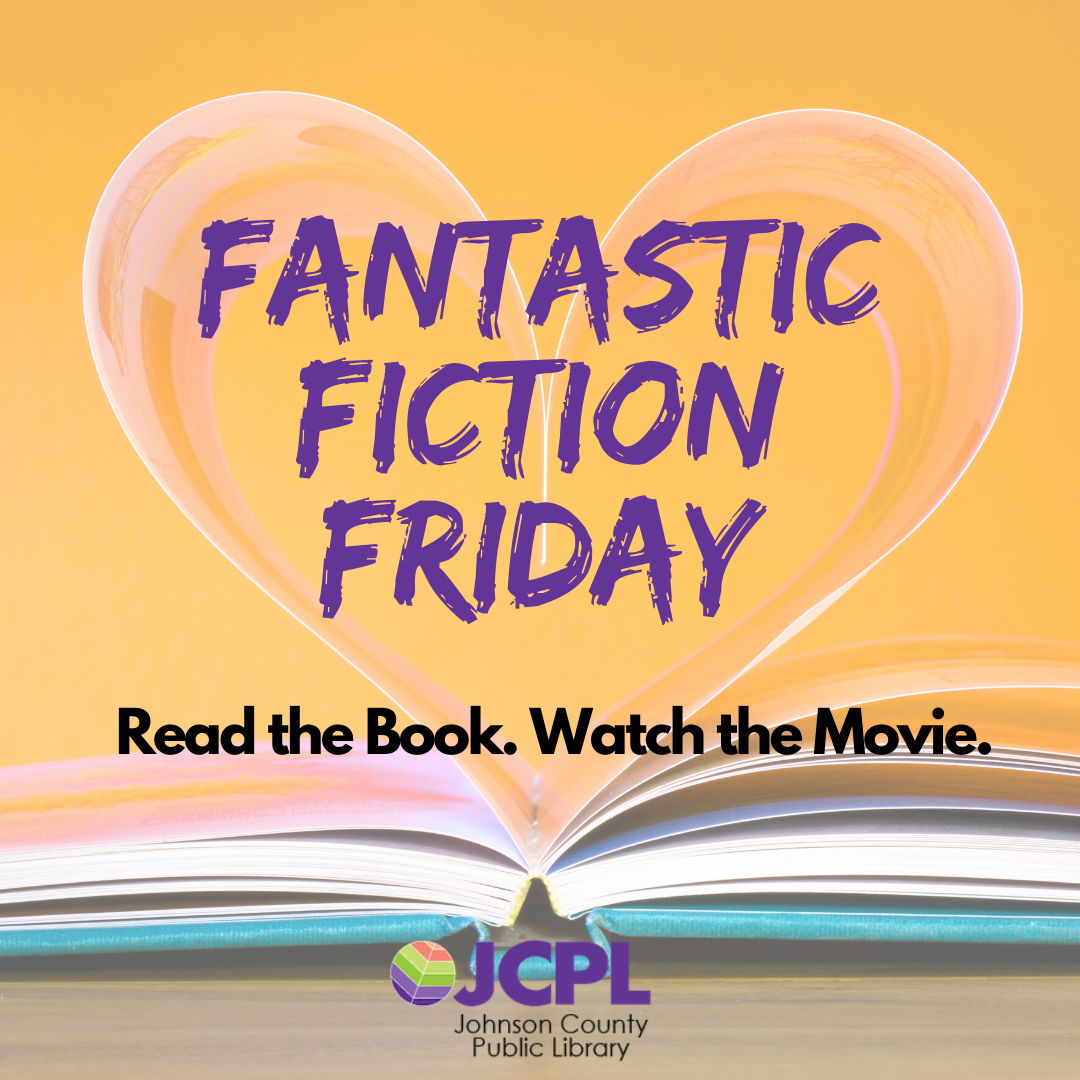 Read the Book. Watch the Movie.
What are YOU reading this weekend? Erin from our Clark Pleasant Branch is recommending books that were made into movies. Make a weekend of it as you read the book and watch the movie.
"Big Fish: A Novel of Mythic Proportions" by Daniel Wallace (Hoopla)
The story of a man's life, told as a series of legends and myths inspired by the few facts his son, William, knows. Through these tales -hilarious and wrenching, tender and outrageous- William begins to understand his elusive father's great feats, and his great failings. Tim Burton created a masterful, star-studded movie adaptation of the book in 2003
"Cold Mountain" by Charles Frazier (Hoopla)
The tale of a wounded Confederate soldier who walks away from the ravages of the war & back home to his sweetheart, Ada. His odyssey thru the devastated landscape of the soon-to-be-defeated South interweaves with Ada's struggle to revive her father's farm, with the help of an intrepid young drifter named Ruby. As their long-separated lives begin to converge at the close of the war, Inman & Ada confront the vastly transformed world they've been delivered. A 2003 cinematic masterpiece.
"It" by Stephen King (Cloud Library)
They were seven teenagers when they first stumbled upon the horror. Now they are grown-up men and women who have gone out into the big world to gain success and happiness. But none of them can withstand the force that has drawn them back to Derry to face the nightmare without an end, and the evil without a name. With two big movie adaptations – this horror classic only gets better with age.
"The Princess Bride" by William Goldman (Hoopla)
A tale of true love and high adventure, pirates, princesses, giants, miracles, fencing, and a frightening assortment of wild beasts-The Princess Bride is a modern storytelling classic. The 1987 movie adaptation is a quotable cult classic movie perfect for all ages.
"Patriot Games" by Tom Clancy (Cloud Library)
CIA analyst Jack Ryan is vacationing in London with his wife and young daughter, when a terrorist attack takes place before his eyes. Instinctively, he dives forward to break it up, and is shot. It is not until he wakes up in the hospital that he learns whose lives he has saved -- the Prince and Princess of Wales and their new young son -- and which enemies he has made -- the Ulster Liberation Army, an ultra-left-wing splinter of the IRA. A classic action packed movie starring Ford Harrison and Sean Bean.
"Safe Haven" by Nicholas Sparks (Cloud Library)
Katie Feldman moves to a small town on the North Carolina coast, determined to make a new life for herself. She takes a job as a waitress and keeps a low profile, but she is soon won over by the warmth and caring of the close-knit community, especially that of widower Alex. With the help of Alex and his children, Katie learns to love and trust again -- but when a mysterious stranger arrives and starts asking questions, Katie's dark past threatens to reclaim her. A 2013 romantic suspense movie.
"A Simple Favor" by Darcey Bell (Hoopla)
She's your best friend. She knows all your secrets. That is why she is so dangerous. A single mother's life is turned upside down when her best friend vanishes in this chilling debut thriller in the vein of Gone Girl and The Girl on the Train. This 2018 thriller starred Anna Kendrick and Blake Lively.
"The Woman in the Window" by A.J. Finn (Cloud Library)
Anna Fox lives alone, unable to venture outside. She spends her day drinking, watching old movies . . . and spying on her neighbors. A perfect family moves into the house across the way: a father, a mother and their teenage son. When Anna, gazing out her window one night, sees something she shouldn't, her world begins to crumble and its secrets are laid bare. What is real? What is imagined? Who is in danger? The movie adaptation came to theaters in early 2020.
Hunker Down With a Good Book
"The Authenticity Project" by Clare Pooley (cloudLibrary)
"The Authenticity Project is a heart-warming and thought-provocative read perfect for the current time. This book encourages us to learn more about our neighbors, seek out real life connections, and live our life as authentic as possible. "
--Stephanie
"Still Life" by Louise Penny (Hoopla)
"A lyrical, intricately woven modern who-done-it detective series with old-world overtones. Each book subtly builds relationships and story-line. Hoopla's audiobooks add an additional dimension with their use of a notable, talented narrator who disappears into the characters."
--Bobbi
"The Inn at Ocean's Edge" by Collen Coble (Hoopla)
"The author does a good job of bringing to light the history and colloquialisms, and even foods unique to the locale. It makes me feel like I'm there."
--Karla
"Simon vs. the Homo Sapiens Agenda" by Becky Albertalli (Cloud Library)
"One of my favorite light, funny books. It helped me through a tough time in the past and is one of my go-tos when I need a break."
--Liz
"One of Us is Lying" by Karen McManus (Cloud Library) "Do you miss the drama of a high school, especially with social media mixed in? Everyone has secrets. Those secrets keep showing up on social media. One person was murdered. How far will everyone go to protect their innocence and secrets? Who is lying?"
--Tiffany L.
"The Thief" by Megan Whalen Turner (Cloud Library)
"The Thief begins as simple heist story, but turns into so much more. The main character is complex, with motivations unknown to the reader until the end of the book. The plot has a twist that I don't see coming and each time I read the book, I'm amazed at the writer's ability to tell such an engaging story."
--Kelley G.
"The Little Old Lady Who Broke All the Rules" (Hoopla)
"A refreshing change of pace, with an alternative point of view! I enjoyed reading about the spunky group of retirees in Sweden, that are fed up by the decaying conditions in their retirement home. The group set out to change their lives and not silently stand by. The moral of the story is, never under estimate the elderly. An easy, lovely read, at times a bit silly, that will make you think about how we treat our elderly and where they are left to live out their lives."
--Nicole
"Dragonflight" by Anne McCaffrey (Cloud Library)
"To me, escapism means exploration which is why I like reading the Dragonriders of Pern series by Anne McCaffrey. It has suspenseful plots, funny characters that you can either root for or rally against depending on how you want to look at the situations they find themselves in. The characters are memorable not just for what they do, but for what they don't do."
--Anna
"Carved in Bone" by Jefferson Bass (RBdigital)
"I'm a big fan of the mystery/suspense genre, so I'm always looking for a new series to dive in to. I love listening to audiobooks, so sometimes it's hard to find older mystery titles in that format; especially the first few books in the series. There is a main character in this series that is a forensic anthropologist, which I prefer over a detective any day. It's really interesting to hear how people in that profession help to solve missing persons cases."
--Tiffany W.