Flu Shots by Franciscan Health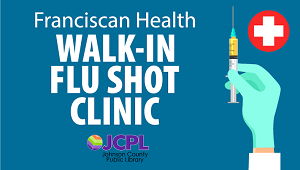 The Franciscan Health Immunization department wants everyone to get vaccinated against the flu or pneumonia. Clinics are on a first come, first served basis. Some paper work will be required and then you may get your vaccination of choice. Immunizations are available to people six months and older. It is highly recommended that all individuals get a flu shot annually. The pneumonia immunization is recommended for individuals who have frequent upper respiratory infections or chronic medical conditions. Franciscan Health also offers the new quadrivalent vaccine (4 strains covered) this year and all versions are preservative free.
Franciscan Health Walk-in clinics will be held at the following times and locations:
Saturday, October 5 from 10:00 am to 2:00 pm - Clark Pleasant Branch
Saturday, October 12 from 10:00 am to 2:00 pm - White River Branch
Saturday, October 19 from 10:00 a.m. to 2:00 p.m. - Trafalgar Branch
Saturday, October 26 from 10:00 a.m. to 2:00 pm - Franklin Branch
Vaccines available include:
Flu Shots (6 mo - up)
Flu Shots: High Dose (65+)
Pneumonia Shots
Prevnar

Bring your health insurance card. Franciscan Health accepts all major insurance companies: Anthem, Aetna, Medicare, Medicaid, United Healthcare and Cigna. For anyone that does not have health insurance, the cost of flu/pneumonia vaccine will be $15 per vaccine.
Cash, check, or credit card payment is expected at time of vaccination.