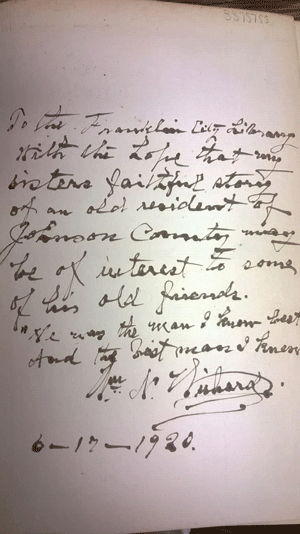 Tucked away in Johnson County Public Library's Historical Room is a treasure that will reveal a surprising bit of history that links White River Township to Wishard Memorial Hospital (recently renamed Sidney & Lois Eskenazi Hospital).
This treasure is a book dedicated on June 17, 1920, to what was then the Franklin City Library by none other than William N. Wishard, Sr. - the same doctor that Wishard Memorial Hospital was named for in 1975. A hand written message on the front-page states "To the Franklin City Library with this hope that my sisters faithful story of an old resident of Johnson County may be of interest to some of his old friends, Wm. N. Wishard."
The book, "William Henry Wishard-A DOCTOR of the OLD SCHOOL" is a memoir detailing the life of a doctor, born to one of Johnson County's first pioneer families, who rose from a life in the wilderness, becoming a prominent doctor instrumental in forming The Indiana State Medical Society, June 6, 1849. He is also the father of Dr. William N Wishard, Sr. and grandfather of Dr. William N Wishard, Jr. The book details the early years of medical practice in Indiana, as well as life in Johnson County before the Civil War.
The Wishards entered into Johnson County in 1824 when William Henry was 8 years old. In interviews later in life, William describes Johnson County as an area teeming with birds of every description as well as bears, panthers, wolves and all manner of wild beasts. Only nine houses lay between the Wishard's farm and the then sparsely populated city of Indianapolis. The harsh life of a pioneer made it necessary for both parents and children to bear the burdens of labor. William Henry, the oldest of 11 children, performed duties that today would be considered quite beyond the capacity of a child his age. This led to some very interesting adventures described in the book, all of which helped shape William for the rigors put upon physicians in the 1840s.
William's limited early education did not keep him from becoming a doctor on April 22, 1840. Not all doctors at the time had medical degrees; William did not obtain a college medical degree until 1849. He learned his craft by following his mentor Dr. Noble, of Greenwood, for two years. The only doctors available to the pioneers in Johnson County were located in Greenwood, Franklin, Mooresville, Shelbyville and Indianapolis. Doctors in those days traveled long distances through dense forest and thick undergrowth to reach their patients, often finding themselves at the mercy of harsh weather and exhaustion.
William dealt with other obstacles in the early days of medical practice in Johnson County. Doctors had limited effective medicine before the wide spread use of anesthetics, antiseptics and quinine for malaria, making the self-reliant pioneers skeptical of medical practices. William had to be prepared to face the social and moral habits and tastes from people who emigrated from a large variety of places.
William liked to joke that he was 11 months older than his adopted state of Indiana. He was 97 years old when he died in 1913, just three years shy of our state's Centennial. He left a legacy that his son Dr. William Niles Wishard, Sr. and grandson Dr. William Niles Wishard, Jr. would continue. Dr. William Niles, Sr. served as superintendent of the Indianapolis City Hospital from 1879 to 1886 and vastly improved the conditions at the hospital. He was the originator of the State Board of Medical Registration and Examinations and also helped establish Indiana's first nursing school. Dr. William Niles, Jr. graduated cum laude from Harvard University Medical School in 1925. In 1928, he entered into a private practice with his father, Dr. Wm. Niles Wishard, Sr.
For other interesting stories of early days in Johnson County, visitors and patrons of the library can visit the Historical Room of the Johnson County Public Library.
---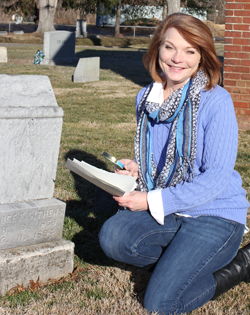 Pam Caito is the assistant to both the Historical Room and Marketing and Communications Department. She believes history connects the past and the present to give us a feeling of being at home. There are places and activities right here in Johnson County that help us to step back in time for relaxed, off the grid adventures. Email Pam at pam@jcplin.org.
Sign Up to Receive 'Now You Know'