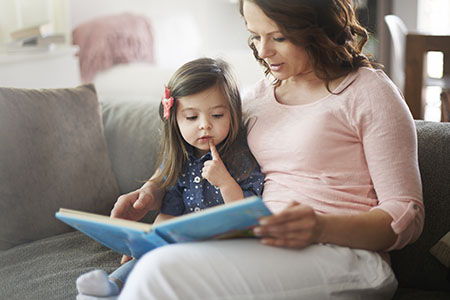 One of the best ways to amp up your books and stories for your little one is also one of the simplest. No crafting or extra materials are required here. All you need is a book and maybe some spare imagination. The goal is to get children engaged and active in the story, so what better way to do that than to make them the boss, the guru and your critical picture book consultant? Librarians and teachers call this "dialogic reading." Don't let the term discourage you if you haven't heard it before because you might already be practicing it! Dialogic reading is all about asking questions and letting little ones answer, talk and take charge throughout a story. Kids will get so much more out of a book when they are active in the reading process. Engagement leads to literacy learning, a growing love of reading and of course bonding time with their favorite storytellers. So what are some good strategies to get kids engaged?
Try these tricks while reading your next picture book together:
- Ask your child to predict what will happen next in the story.
- Let your child tell you the story, especially if they can't read yet. They'll build visual literacy, storytelling and conversational skills by making up their own story for you based on the pictures they see.
- Ask for input about what would make the story better.
- Help your little one make a connection between the story and their life.
- Mimic something that happens in the story with your child. Jumping, counting, yawning, making faces—whatever feels fun!
- Ask open-ended questions about what is happening. Try not to make these question and answer sessions where you're looking for a right answer.
For example: "What do you see on the page?" "How do you think this character is feeling?" "Have you ever felt like this before? What was it like?" "What would you do if you were here?"
- Most importantly, give your child chances to lead the story. Walk down tangents with them. Follow their imagination. If they mistake a butterfly for an airplane, ask them about what they see and why it's there. There are times to correct them, but sometimes it's great to go with a "mistake" and see where it leads.
These are only a few of the amazing moments you could invent with your child through reading. Dialogic reading is a versatile literacy strategy you can use anytime and anywhere. Granted, if your little one doesn't feel like participating sometimes, that's fine too. Reading without commentary can be magical in and of itself. Hopefully this gives you one more tool in your reading and learning toolbox