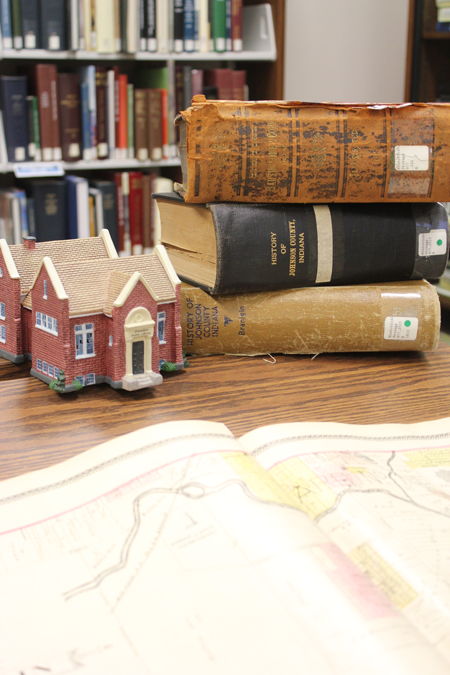 Today we are swinging open the double oaked doors of that mysterious room located at the Johnson County Public Library's Franklin Branch. Between the two decorative pillars on one wall of the Adult Section of the library, is a room that most patrons will think they are not invited to visit.
There is a sign on the oaken pedestal instructing us to please sign in – at the reference desk. So what gives? Why a locked door and why do we have to sign in? Doesn't the library want us to use their resources? Why the barriers?
The library invites you in to see for yourself! As you enter the room, you will notice right away a temperature drop. Boy, don't they heat this space? You will also notice that this room has its own air conditioner and dehumidifier. If you guessed there is a special collection here, you would be right.
The books and resource materials housed here are our link to early days of Johnson County. This room is kept at a constant 68 degrees and the humidity is at or below 30 percent to help preserve paper and film.
We keep the room dark with only one small overhead light when not in use. The blinds are drawn 24/7 to keep the sunlight out and the room has a list of do's and don'ts that patrons agree to when using the space.
Seems like a lot of fuss and bother! Not really, once the books and materials are placed in the Historical Room, they never leave the room. No checkouts! This collection is about stories, real people and the events that happen to them. Do you want to find out how your family member lived during the time they were alive? Using our collection, you get a glimpse of what it was like to live in Johnson County long ago as well as during your lifetime.
Did a relative go to school in Johnson County? Chances are their picture is in our yearbook collection. Forgot to save an article from the Daily Journal about a family member, even from over a hundred years ago? Use our collection of newspaper microfilm to make a photocopy or email it to yourself.
So you see, having "barriers" means the library is hard at work taking care of a precious treasure for our future patrons. We keep the doors closed; the lights off and a sign-in requirement (we will discuss room rules in a future blog) to insure these stories can be shared with generations to come.
In a hundred years, someone may venture past a "barrier" to find out what your life was like. We want to preserve a story to tell them. So come on in, take a book off the shelf, find a seat and venture off the grid. Let us tell you a true story!
---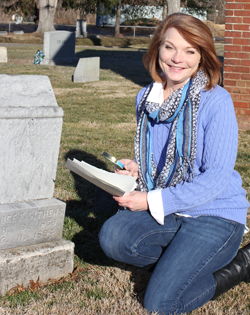 Pam is the assistant to both the Historical Room and Marketing and Communications Department. She believes history connects the past and the present to give us a feeling of being at home. There are places and activities right here in Johnson County that help us to step back in time for relaxed, off the grid adventures.
Join the conversation at pam@jcplin.org.
Sign Up to Receive 'Now You Know'