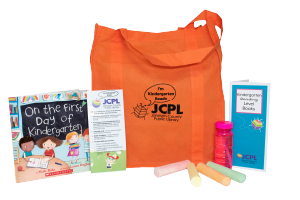 Kindergarten Readiness Bags
Johnson County Public Library is providing your future Kindergartener with fun, educational items. We hope you enjoy helping your child get ready for Kindergarten. Parents and caregivers are our children's first and best teachers.
Johnson County Public Library wants every child to have a solid start to their education! Pick up your Kindergarten Readiness Bag up at your JCPL Branch by August 1, 2023.
Open to all children who start Kindergarten this 2023-24 School Year.
Bags contain: sidewalk chalk, bubbles, a book, and activity and book information for caregivers (kindergarten reading level book list brochure and a bookmark with activity suggestions).
One per Kindergartener. While Supplies Last.