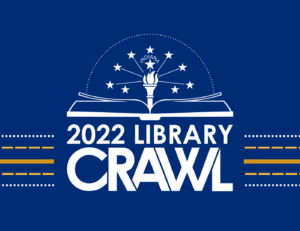 1st Annual Library Crawl
To celebrate National Library Card Sign-Up month, JCPL is participating in The Library Crawl. It is a "free range" experience all September long! It is your opportunity to explore other central Indiana libraries. Your first stop is any JCPL Branch to pick up a Library Crawl Passport or download and print your own copy from here.
When you visit other libraries, bring your passport and have it stamped! Once you've visited five libraries, return the Library Crawl Passport to your home library for a small token or entry for a prize drawing. JCPL patrons will receive a small prize. Remember, all the JCPL branches count too!
Participating libraries:
• Hussey-Mayfield Public Library
• Johnson County Public Library
• Westfield Washington Public Library