ABOUT LINKEDIN LEARNING FOR LIBRARIES
You only need your library card to access the new LinkedIn Learning for Library--you do not need to create a LinkedIn account.

Please note: to maintain privacy and anonymity, you cannot link your personal LinkedIn profile to the LinkedIn Learning for Library account. You can download completion certificates and share them on your LinkedIn profile as a post or list the course completions under the "Courses" section on your profile.

Access using your library card number and PIN
LinkedIn Learning for Library features:
Over 16,000 courses in 7 different languages (English, French, German, Japanese, Spanish, Mandarin, and Portuguese)
An updated, easier-to-use interface
Previous course history from Lynda.com
Log in via library card and PIN without the need for a LinkedIn profile

Mobile app is available -- use "jcplin" as the Library ID and then log in with card number and PIN


LinkedIn Learning for Library
Learn a new skill online, on your time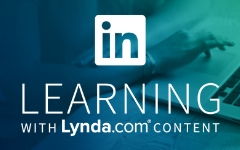 Johnson County Public Library is excited to offer our patrons access to the LinkedIn Learning for Library (with Lynda.com content) instructional video service! Cardholders living in Johnson County can access any of the thousands of online courses in Microsoft Office, Photoshop, web design, business, marketing and much more at no cost.
Get started with LINKEDIN LEARNING now
An easy and effective way to grow your skills in areas like:
Web Design
Business & Marketing
Graphic Design
Computer Programming
Photography
Video
Whether you're starting from scratch, need a refresher or just a quick how-to on a specific function, you'll find your answers for popular software including:
Microsoft Office (including Word, Excel, PowerPoint, Access and Outlook)
Adobe Creative Suite (including Photoshop, Illustrator and InDesign)
Dreamweaver
Google Apps
iMovie
Final Cut Pro
GarageBand
All you need to start learning with is your library card number and PIN (your default PIN is the last four digits of your card number).
Don't have a library card? Fill out our online form and have your card mailed to you. LinkedIn Learning for Library is only accessible to patrons living in the Johnson County Public Library district. Can't find your card? Contact any JCPL branch.