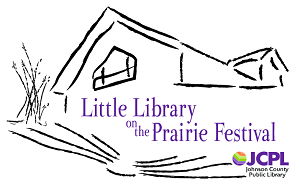 Little Library on the Prairie Festival
Sat / June 9 / 11 a.m.-5 p.m.
Trafalgar Branch

Travel back in time to the mid-1800s to explore pioneer life on the Indiana prairie. Enjoy traditional crafts, games, live entertainment and more at this event that's sure to be fun for the whole family.
No RSVP necessary, but DO tell your friends about this FREE event!
Schedule of Events
11 a.m.-12 p.m. - Photo Opportunity with Laura Ingalls
11:30 a.m.-1 p.m. - Roger Banister and D3R Bluegrass performance
12-12:45 p.m. - Katie Andrews Potter: Author Katie Andrews Potter reads from her book, the biography, "When Mother Read Aloud: The Life Story of Almyra King Holsclaw." She'll talk about how she created the book, about researching your family history and Indiana pioneer history
1-1:45 p.m. - Storytelling with Daniel Boone
1-3 p.m. - Uncle Hobie, Conner Prairie Interpreter
1:45-2:45 p.m. - Meet and Greet with Daniel Boone
2-3:30 p.m. - Major Minor Trio: The Major Minor Trio plays authentic 19th Century Indiana music including folk songs, party songs, children's songs, lively dance music for fiddle and accordion, hymns, and Civil War marches and camp songs
2-4 p.m. - Homemade Pie Contest: Drop off pies from 2-3 p.m., judging at 3 p.m. and winners announced at 4 p.m.
4-5 p.m. - Freetown Village Singers

All day events include:
• Blacksmith demonstration
• Quilting and spinning demonstrations
• Pioneer chore and food production stations including rug beating, laundry and making hardtack
• Antique farm machinery show
• Take a walk on our trail and enjoy a prairie-themed StoryWalk
• Pioneer crafts including clothespin dolls, tin suncatchers and quilting crafts
• Native American crafts and information
• Pioneer games
• 11 a.m.-3 p.m. Booths from the Johnson County Museum of History and Johnson County Parks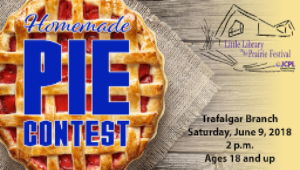 Homemade Pie Contest

Sat / June 9 / 2 p.m.
Trafalgar Branch
Below is a list of the official rules of entry.
1. All participants must be 18 years or older.
2. Only one entry per person.
3. Registration is required. The last day to register was Thursday, June 7, 2018.
4. All pies must be completely homemade. This includes crust, filling and any topping.
5. No pies requiring refrigeration will be accepted including, but not limited to, pies containing cream or other dairy products.
6. All pies must be in a covered container.
7. Recipes must be included with all pies. If the recipe is from a cookbook, please include the title and authors name with the recipe.
Pies must be dropped off between 2-3 p.m. on Saturday, June 9, 2018 at the Trafalgar Branch (424 S. Tower St., Trafalgar, IN 46181). Winners announced at 4 p.m.