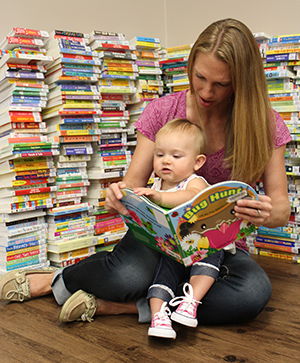 Hand a book to your baby and guess what will happen. I'll bet you can imagine many things that would happen to books in those curious little hands. From holding and touching to banging, tossing, pulling and flinging (maybe even an attempted chewing or two). But not to worry, friends, as this is exactly what board books are meant for!
Yes, board books, those small, rectangular books with the almost unbendable strong paper or plastic pages. These little buddies hold up to wear and tear better than just about any book out there, which is good, because the tactile experience of holding a book is not only fun for little hands, but it is also oh so valuable. Learning to read is a long process, and that starts with the very first steps: learning what a book is, how to hold it, how to turn a page and finding out that, on the inside, books hold stories and pictures.
It's important that reading time and book time are fun times. So that means, when reasonably possible, it's good to avoid scolding or prying away a book because it has become a toy. It's natural for many of us to get a bit precious with our books. After all, books are fabulous things and we want to treat them kindly. But ultimately, books are a tool, and such a critical tool to let babies have (and hold and bang and pinch and explore.) That's where board books come in.
When you read a board book with your child talk about the book itself. What does it feel like and how do you wrap tiny fingers around it? Board books serve as a great introduction to reading. Because they're durable, it's OK for the book to be a toy - really!. The more book time is a fun time of day, the more reading will be a fun activity. Healthy heaps of play and bonding, more so than the actual reading part, are what makes early reading a memorable and meaningful activity for you and your little one.
So board books are amazing. Here are a few cool things to try with your next board book:
• Look closely at a board book when you open a page on a flat surface. You may notice the next page starts to flip. This is a built-in tutorial for babies to learn how to flip the pages of books to see more. It's a small, but important revelation on the road to reading.
• Look for board books with textures and varied surfaces. There are so many possibilities for your child to learn by touch, sight and sound.
• Go wild! Make sounds using your board book. Tap it, shut it, flick it and knock on it to make an book orchestra.
• Wear a board book like a hat.
• Stack your board books up in a book tower.
• Be silly!
• Model reading for your little one. Show them what you do with a book, try reading or turning pages together, follow the words with your finger and gently guide your baby's hand.
In the end, book time should be a fun time, and there's no real right or wrong way to go about it. Make your own games, set off on your own adventures and don't be too afraid to scuff up a book even a library book here or there.