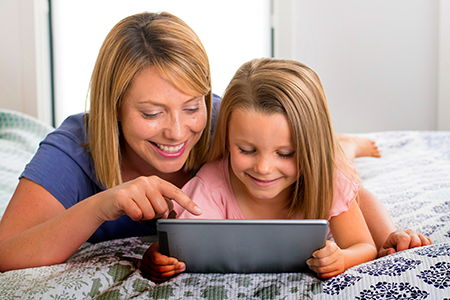 It's a common dilemma - you've read all the books at home so many times you're certain your little one is actually able to read the stories. What if you could get a boatload of new books without having to get yourself or your little ones out of pajamas? I'm sure you know where this is going… you definitely can! TumbleBooks offers free books, and all you need is an internet connection and you're good to go.
But what is TumbleBooks?
TumbleBooks is a treasure trove of online books of all types—picture books, early readers, chapter books and even graphic novels. You can access TumbleBooks for FREE on JCPL's website – pageafterpage.org. Just scroll down the list and click on a title to start the book. TumbleBooks offers plenty of options - fiction, nonfiction, world language books and even math, puzzles and educational videos. TumbleBooks also offers an app that lets you log in with your Johnson County Public Library card number, so you can take great stories everywhere you go!
TumbleBooks offers other great features you're sure to find quite helpful. You can search by type and reading level of book – great for practice and even stretching your reader to the next level! There are books for children of all ages and interests. It's like having your very own rainy-day storytime that runs on your schedule. Just like reading time with a physical book, you can pause the book to talk about the story with your child. You can also…
• Take a break to do a book-based puzzle together
• Play a book out loud for a small or large group
• Hop over to an e-book for a voracious reader
• Add favorites to your own personal list
Many of the books feature animated illustrations and a narrated read-along track for early readers and pre-readers. Moving illustrations bring these books to life, and help make book time an engaging, fun-filled part of the day. Text is highlighted as it's being read too, which helps young readers follow along. For especially young children, the highlighted text can help them understand what the words on the page are doing—that the words, and not just the pictures, actually mean something. These are important concepts to help little readers understand, whether a book is on a screen or in our hands.
Reading is such an essential part of an everyday routine for little ones. TumbleBooks is just one extra tool to help reading become an integrated part your life. No matter how you and your child read together, the most important part is that you read together. The time you spend reading is as much about bonding and learning as it about the reading itself.
So cuddle up with your laptop or device find your new favorite book on TumbleBooks! And just maybe you'll be in your pajamas when you do.