Mental Health Awareness Resources
Each year millions of Americans face the reality of living with a mental illness. No one should feel alone or without the information, support and help they need.
Online screening tools are a quick way to determine if you are struggling with a mental health issue. Consider visiting Mental Health America's online screening tools at https://screening.mhanational.org/screening-tools/

Local and National Resources
Resources to help you or someone you care about find support
LookUp Indiana
Mental, behavioral, and emotional health information.
National Suicide Prevention Lifeline
Call 1-800-273-8255 -- for anyone who needs assistance, whether for themselves or loved ones.

Crisis Text Line
Text IN to 741741
Be Well Indiana Helpline
Speak with a trained counselor 24/7 regarding stress, anxiety, loneliness or mental health strains due to the COVID-19 pandemic.
Call 211; Enter Your Zip Code and Press: 3
Veteran Crisis Line
Call 1-800-273-8255, and press 1 or Text to 838255
Support for deaf and hard of hearing is available at 1-800-799-4889
Support for Spanish speakers is available at 1-888-628-9454
The Trevor Project
Trevor Lifeline Call Number: 1-866-488-7386
TrevorText - START to 678678
Substance Abuse and Mental Health Services Administration

National Institute of Mental Health
Click here for local Johnson County community resources and mental health providers
Find more information at Upstream Prevention
Upcoming JCPL Mental Health and Mindfulness Programs
Mental Health Awareness Booklists
Titles compiled by JCPL librarians
Column 2 Placeholder Content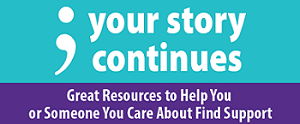 Suicide Prevention Booklists
Titles that will offer support and insight for those who struggle