Color the County Mural on the JCPL Book Barn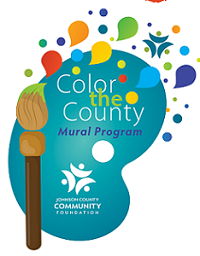 JCPL and the Johnson County Community Foundation invite you to participate in the Color the County Mural Program. No artistic talent is necessary. All are welcome to participate. Painting supplies and refreshments are provided.

Date: Sat • Aug 5 • 9 a.m.-Noon
Where: JCPL Book Barn, next to our Franklin Branch, 401 State St., Franklin, IN

Share This Event
The Story of the Mural
In fall 2021, JCPL's graphic designer for 33 years, Amy Kitchen, suggested putting a mural on the "Book Barn." Amy's vision was for it to become a "destination photo spot." JCPL was heartbroken when she died in October 2022. At that time, the JCPL Book Barn mural was already in the works with JCCF.
"We are so grateful for the opportunity to make Amy's dream come true. We think she would have been over the moon with delight at the designs selected," said JCPL director Lisa Lintner.