National Library Week: Connect With Your Library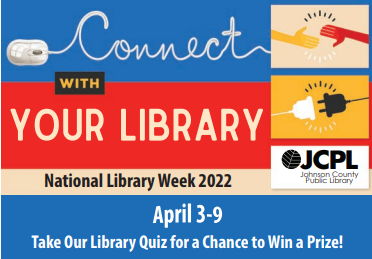 Take our Trivia Challenge and Enter To Win
Posted by: Johnson County Public Library | Friday, March 18 2022
Connect with JCPL! Begins April 3, 2022
The National Library Week theme is "Connect With Your Library," and each trivia question will invite you to explore our Branches, website and resources to learn more about JCPL. Fill out the challenge while visiting a branch or online. If you answer all the questions correctly, you'll be entered into the drawing for a prize basket full of fun JCPL swag including a t-shirt, water bottle, earbuds, an Authors at JCPL book, a $20 gas gift card and more!
Winners will be announced on our Facebook page.

National Library Week (April 3-9, 2022) is a time to celebrate our nation's libraries, library workers' contributions and promote library use and support. The theme for National Library Week 2022 is "Connect With Your Library."
During the pandemic, library workers continue to exceed their communities' demands and adapt resources and services to meet their users' needs during these challenging times. Whether people visit in person or virtually, libraries offer endless opportunities to transform lives through education and lifelong learning. Libraries are many things to many people. They work with elected officials, small-business owners, students and the public at large to discover and address the needs of their communities. Whether through offering e-books and technology classes, materials for English-language learners, programs for job seekers or offering a safe haven in times of crisis, libraries and librarians listen to the community they serve, and they respond.
First sponsored in 1958, National Library Week is a national observance sponsored by the American Library Association (ALA) and libraries across the country each April.